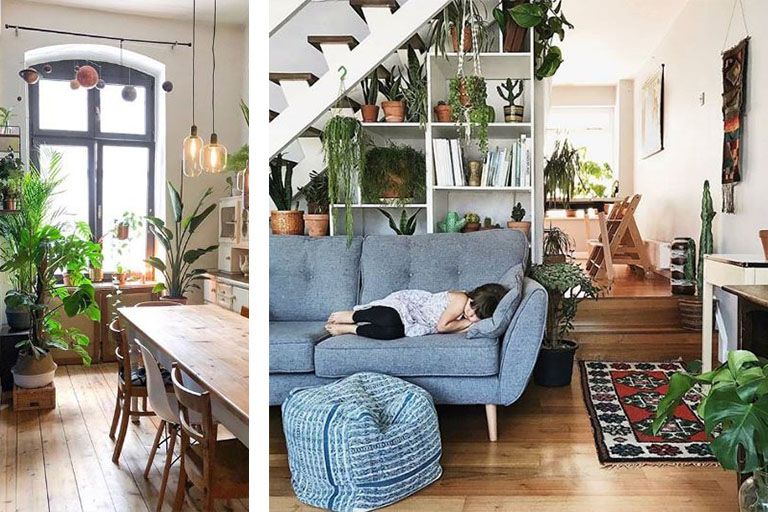 As the world's population is becoming more and more urbanized – people are looking for ways to cope in the sterile concrete environment. Our cities are often contaminated by air pollution and we want to transform our closest surroundings into a more welcoming and healthy space. One popular solution is bringing more plants and greenery inside, transforming your home into a green oasis. Living plants on the windowsill and tabletops calm the eye and clean the air. The related interior style has become known as urban jungle (also called jungalow style).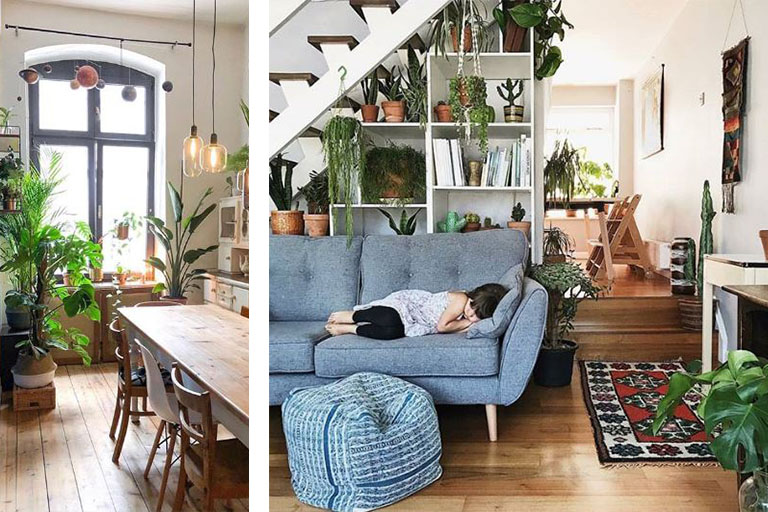 In addition to plants and greenery, other words associated with the urban jungle style are natural, authentic, comfortable and relaxed. Source: instagram.com 
– FROM THE HIPPIE MOVEMENT OF THE 20TH CENTURY TO THE MODERN CITY HOMES OF THE 21ST CENTURY
The urban jungle style is a relatively recent reaction to the ever more and more urbanized environment we are living in nowadays. It is seen as an answer to the scarcity of greenery, clean air, nature and everything natural. On the other hand, the ideological and ethical background of this style comes from the past century's hippie movement when climate problems reached to the big western cities. That made it necessary to find ways to adjust to this new reality. As a counterbalance to the stone and concrete of public spaces people have started to integrate more and more houseplants into their homes. Numerous indoor plants create with their green hues create a calm atmosphere and at the same improve the quality of air.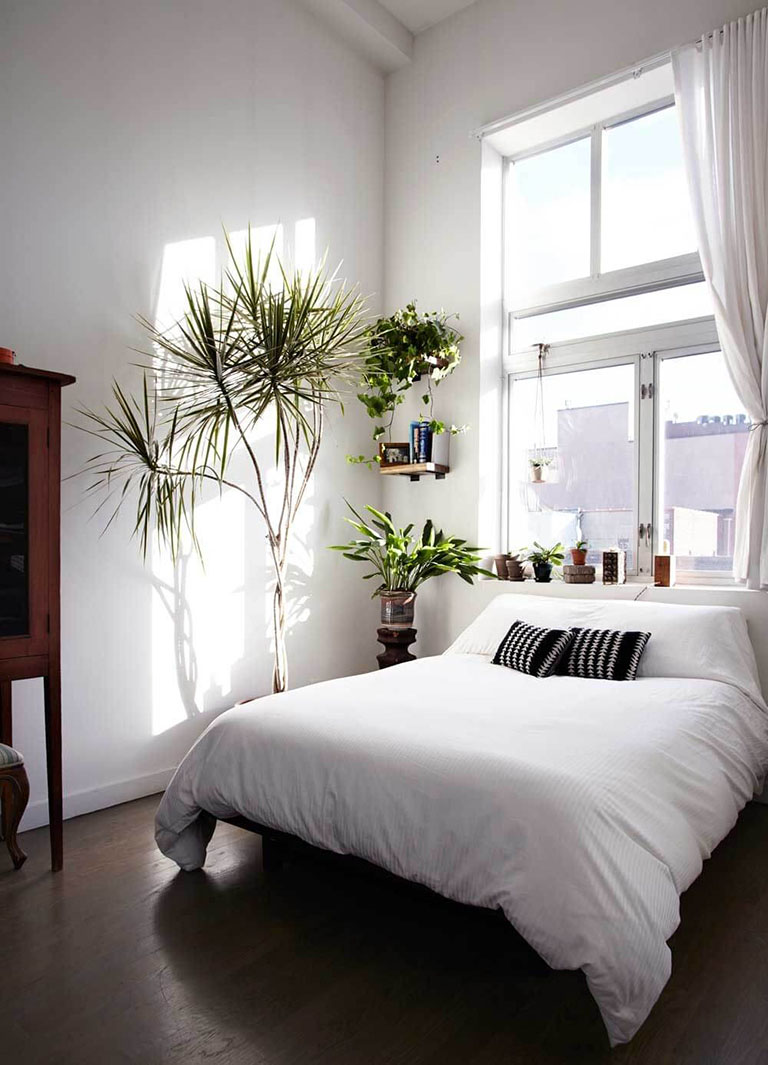 In addition to their calming green colours plants also improve the quality of indoor air. Source: brownstoner.com
– A GROWING COLLECTION
Smaller plants look nice in groups on windowsills or shelves or even hanging from the ceiling. For furniture and textiles, inspiration comes from the mid-20th-century hippie movement, and also from the more general bungalow lifestyle. In addition to plants and greenery, other words associated with the urban jungle style are natural, authentic, practical, comfortable and relaxed. The habitat of an urban jungle is an open-minded world citizen whose home is everywhere and who has the world inside their home. There are exotic objects and souvenirs from journeys laying around everywhere, also treasures from the flea market. In an urban jungle interior, you don't find expensive designer items but lots of living plants. The furniture should be practical and comfortable with each piece having its own story to tell. The materials used are natural and eco-friendly. In an urban jungle home, there is reusing, recycling and DIY everywhere.
Using plants to transform your home into a green oasis. Source: mindbodygreen.com
– NATURAL AND ECO-FRIENDLY MATERIALS
In addition to plants, urban jungle interiors also contain other elements that help to improve the quality of the environment, such as objects made from natural materials. Also, natural wood and recycling are preferred. Textiles are made out of natural fibres, often fabricated using traditional techniques and handcrafted, such as hand-woven rugs or hand-stitched cushions. Even the innovative furniture and interior design company IKEA has focused its recent developmental activities on reintroducing natural materials. The company's popular product range STOCKHOLM includes among other things a rattan cupboard and an armchair made out of bamboo.  
Ikea furniture made from natural materials complement the green plants. Source: ikea.com
–  KEYWORDS TO TRANSFORM YOUR HOME INTO AN URBAN JUNGLE
• Use many houseplants, including hanging "air-purifiers", palms, cactuses, succulents and other easy to maintain desert plants • Look for colours of different hues of green, natural white and other earth colours • Use natural unfinished surfaces and materials, such as wool, cotton, linen, bamboo, rattan, clay etc. • Buy woven objects, such as baskets and furniture, but also woven textiles or knotted with cords and ribbons; • Find second-hand furniture (often from the 1960/70s) or take souvenirs from your travels • Do some handcraft and DIY, which adds uniqueness and personal touch to your home More inspiration: urbanjunglebloggers.com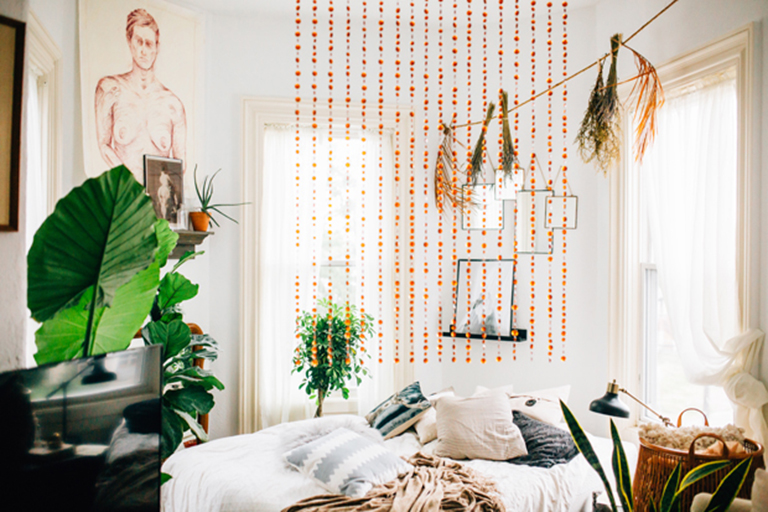 The inspiration for the urban jungle style can be drawn from the 20th century's hippie movement and bungalow style. Source: jungalow.com
– USE THESE STENCILIT STENCILS TO ACHIEVE URBAN JUNGLE STYLE: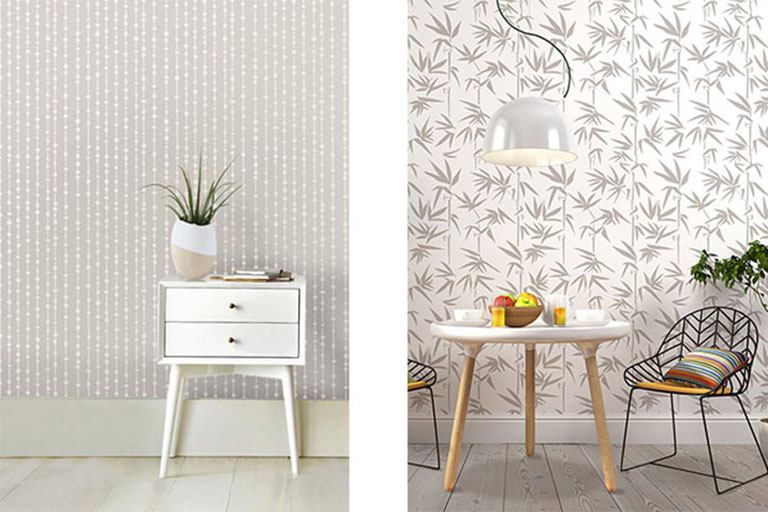 Wall stencils DEW DROPS and BAMBOO from StenCilit for DIY wall decor projects in a home full of greenery. Source: stencilit.co