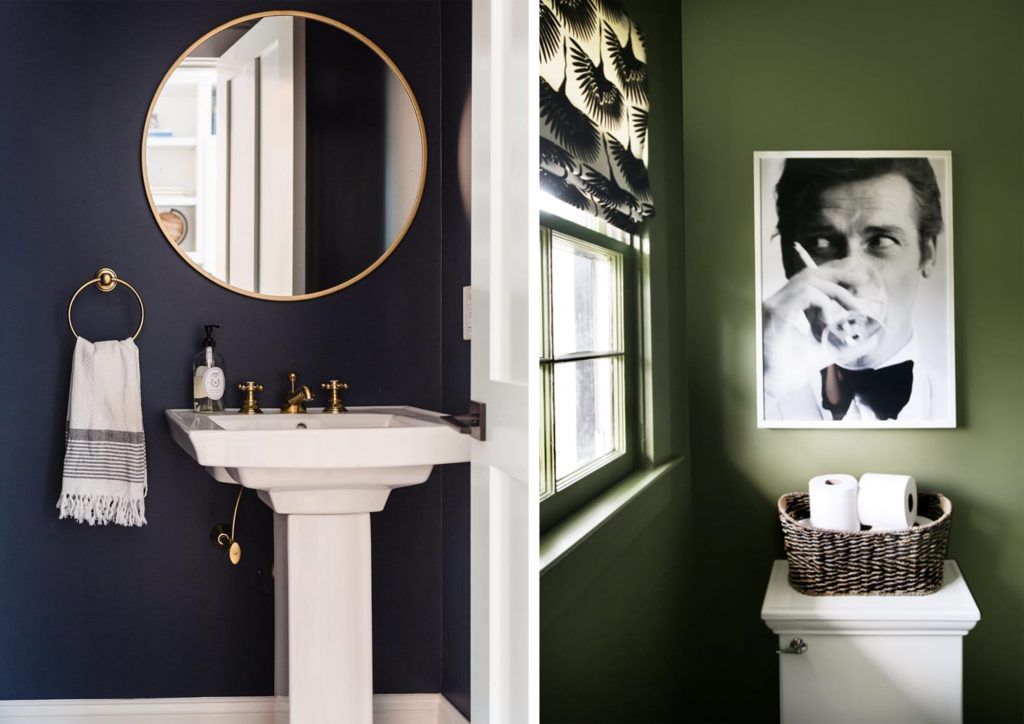 After kitchen renovation, bathroom remodeling can become one of the most expensive home projects. But it doesn't have to be. With a proper planning and a little creativity, you can refresh your bathroom in style, inexpensively and without much inconvenience.
1. SAVE MONEY BY REPAINTING
If you don't have a lot to spend, then repainting will be the cheapest and, perhaps, the most effective way to give your bathroom a new look. Once you have successfully painted your walls, get to the fun part and choose some cute little details to perfectly match with the tone. Another thing to consider is the moisture. Since mold develops easily in a bathroom, and humidity and temperature change often, it's a good idea to invest in  high-quality mold resistant paint with a satin finish.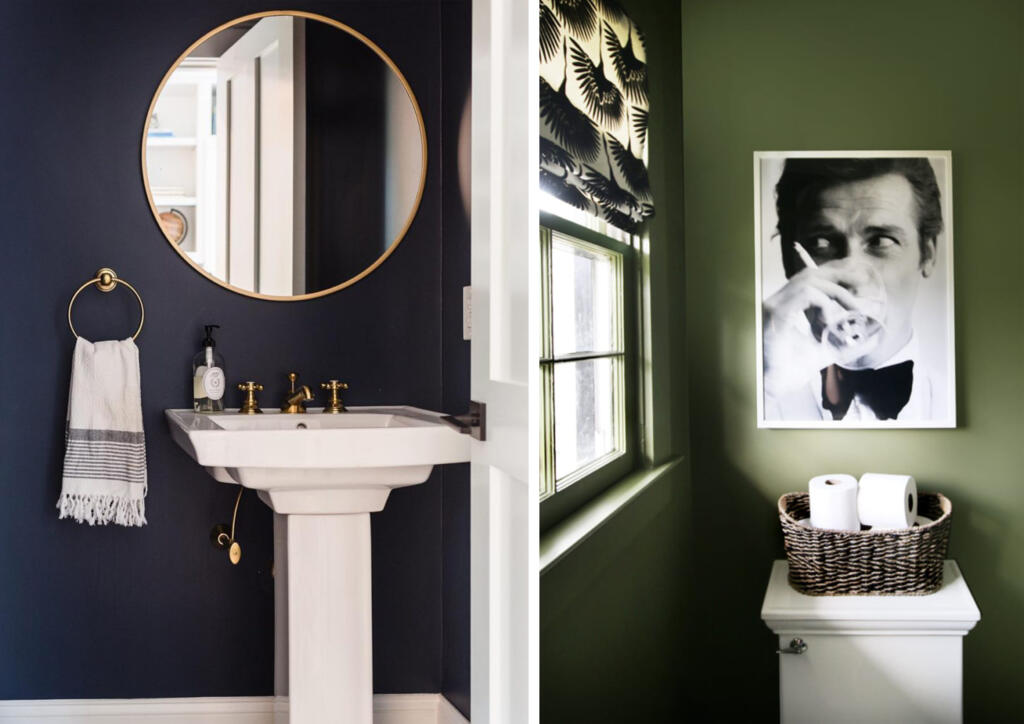 Source                                                                                                                     Source You can successfully repaint your tiled surfaces, too. Just bare in mind that there are some tricks to make the paint stay put. For useful tips check our previous post on  how to paint ceramic tiles.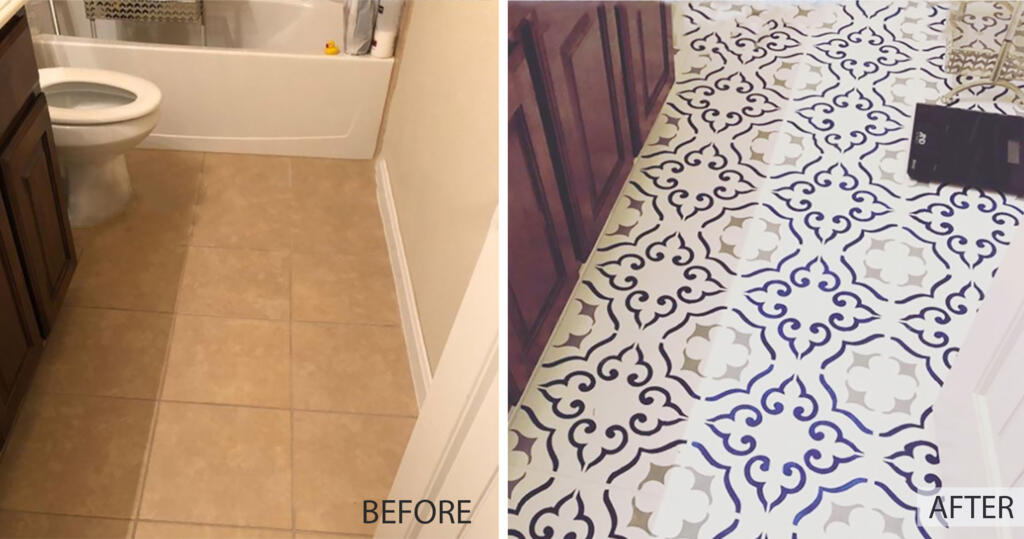 Before and after: bathroom floor repainted and decorated with Malaga tile tile stencil by StenCilit.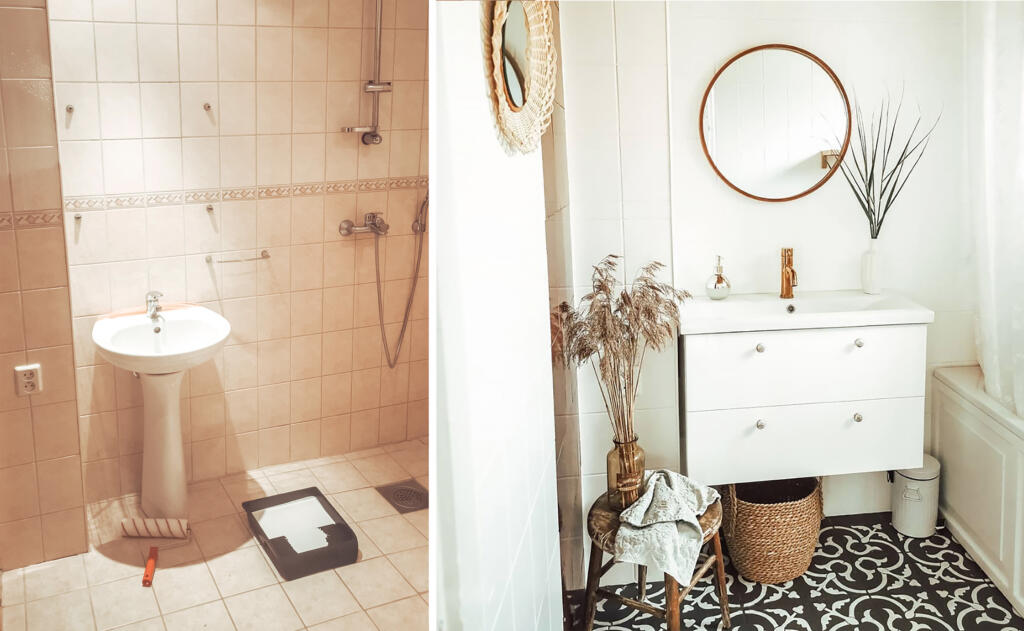 Before and after: Scandinavian tile by StenCilit. Good example of a cheap yet effective bathroom makeover. The floor and wall tiles got repainted, the shower got replaced with a bathtub, the small sink got replaced with a new vanity. Little natural details support the nordic Scandinavian look. Source
2. VISIT ANTIQUE STORES AND FLEA MARKETS
If you are looking for a unique solution for your bathroom, a visit to the antique store might inspire you a lot. Antique stores and flea markets are the places to find real treasures. You can  give your bathroom a personal touch with beautiful antique furniture and one of a kind design elements. You can mix and match, give them a fresh coat of paint, or use them as they are- depending of the style of your home.  Our biggest favourites are old coffee tables and chests of drawers that make the perfect vanity or dressing table for a bathroom. Some antique stores even provide painting service for the purchased items. Flea markets are also a great place to find a bath tub or a sink that, with some renovation, could become a true eye-catcher in your bathroom. Plus, renovating an old bathtub is cheaper than buying a brand new one.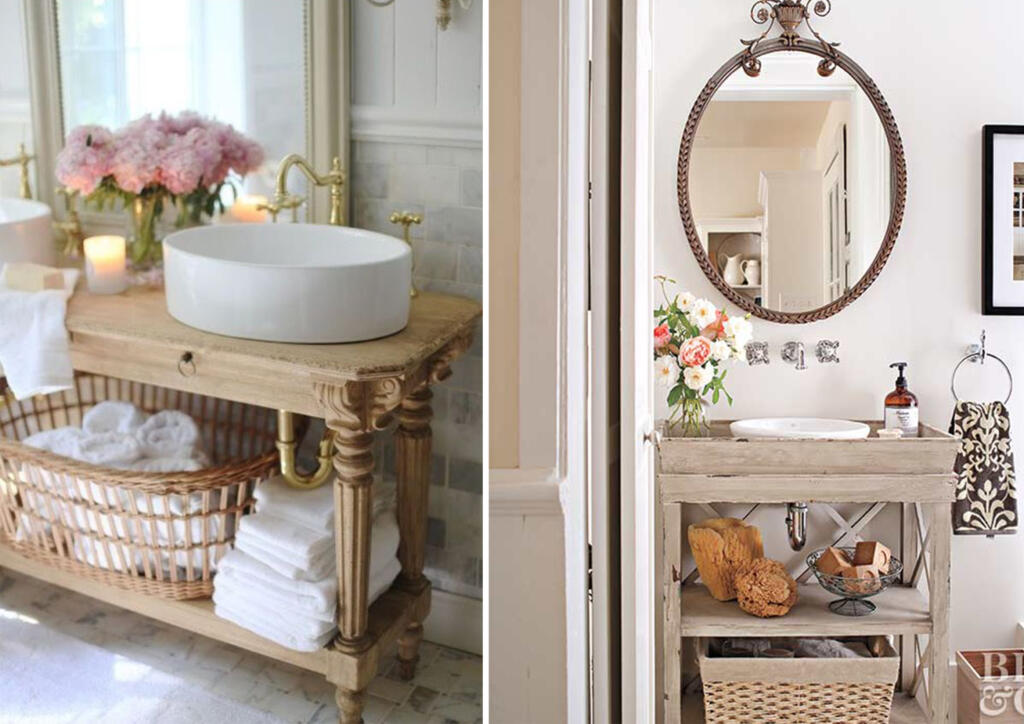 Source                                                                                                                      Source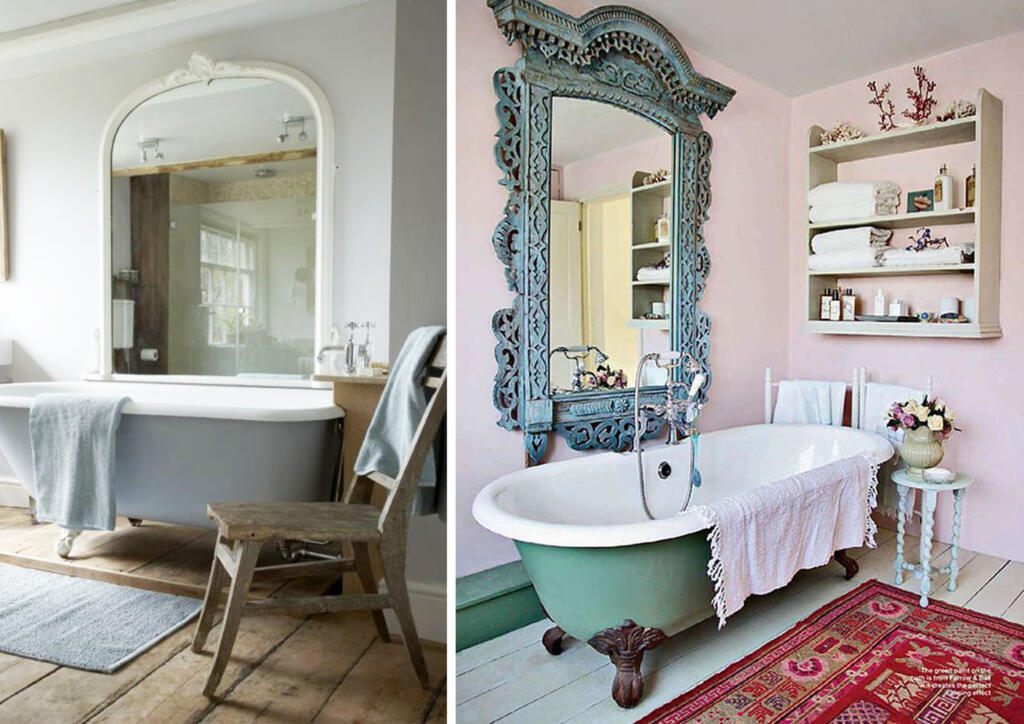 Renovated bathtubs with antique mirrors- a perfect match. Source
3. UPDATE FIXTURES
Next, look at the little details. You can update light fixtures, sink faucets, towel racks, and drawer pulls for a relatively small investment. These items may seem insignificant, but updating them can make a huge difference in your bathroom's look.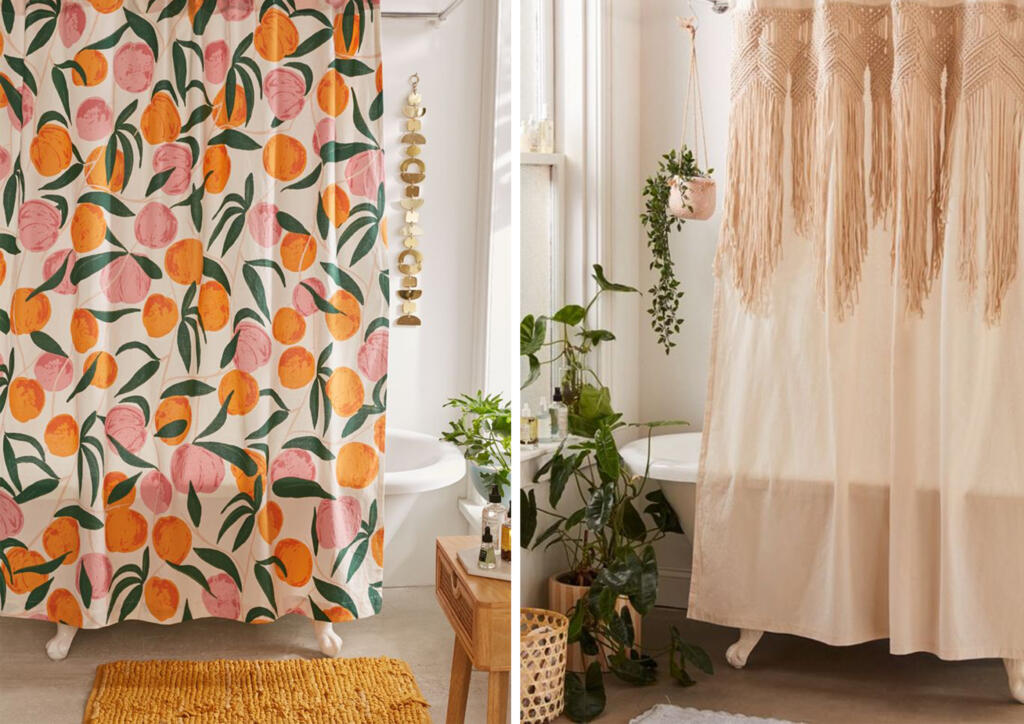 Source                                                                                                                      Source Another tip that always works is to create a focus point, and make the cute little details go with it. The focus point could be beautifully tiled wall, new vanity or some other detail that catches the eye when entering the room. Once you have chosen the focus point, make sure the rest of the room follows its colour palette. Just get some matching towels, lights, mirrors and other details. That little move will change the game for sure!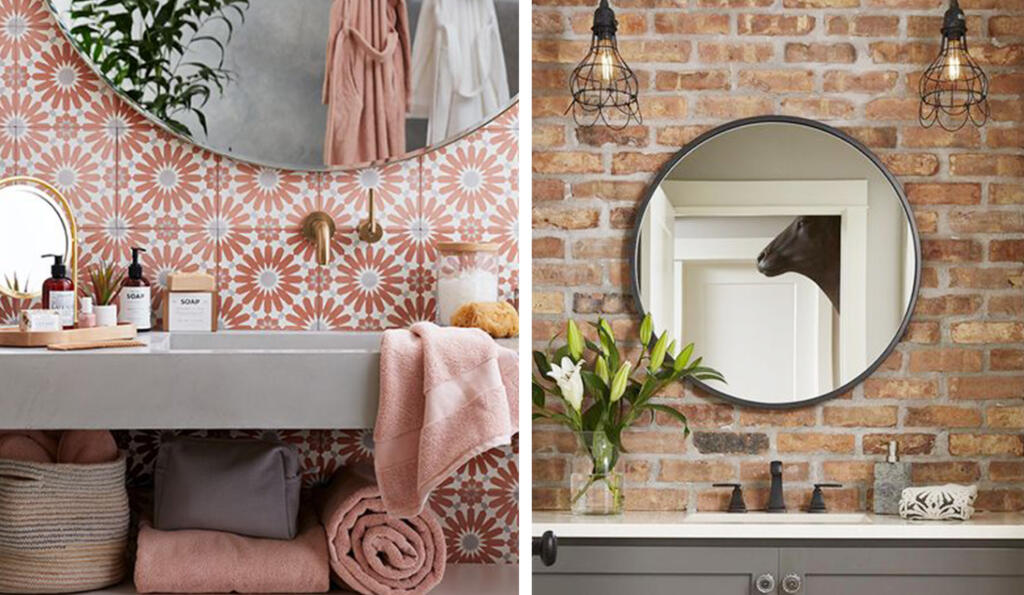 A good example of the accessories completing the look of the focus points. Moroccan tiles on the left and the exposed brick wall on the right.
4. ORGANIZE WITH STYLE
There is always too much stuff in the bathroom. Shampoo bottles, cream containers and all sorts of necessary things that create a colorful mess.  Think through your storage solutions and give your bathroom a whole new look with just a little effort. Just hide the things you don't use every day, and create a beautiful organized display of the ones you do. Fancy containers, wire baskets, ladder shelves- there are endless stylish ways to get organized!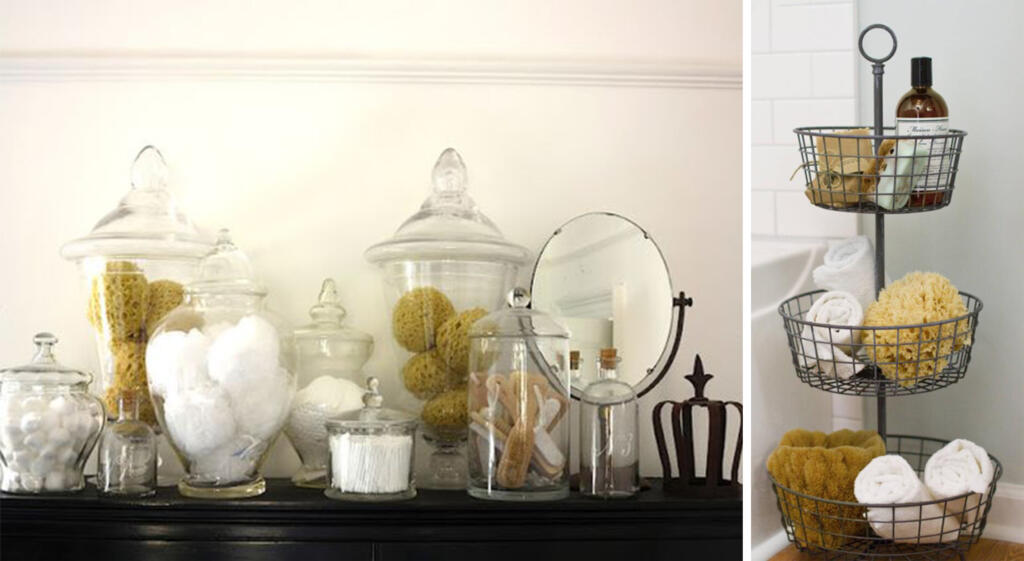 Source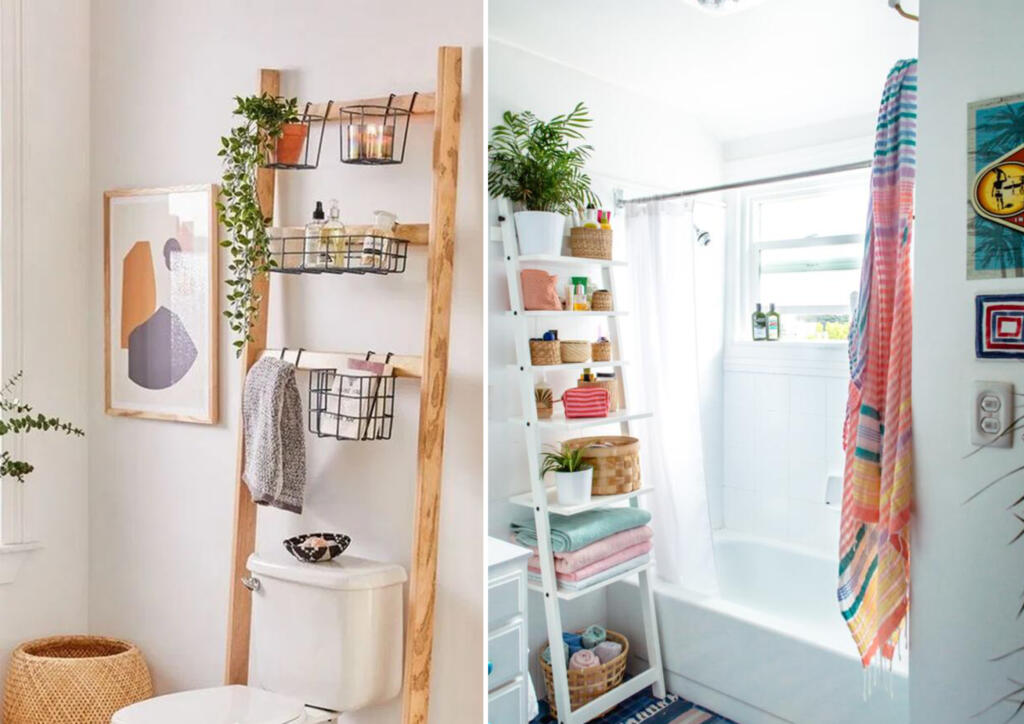 Ladder shelves are the most practical things, especially when it comes to small bathrooms. Source                                                                                                                      Source
5. GET YOURSELF SOMETHING LUXURIOUS
Bathroom is usually the place to stop for a quick shower before all the important things that need to get done. But it should also be a place to relax and spoil yourself in this busy life. You don't need to have a huge bath tub or lots of space. It takes just a few little details to make you feel surrounded by luxury. Bathroom needs to be comfortable and cozy! To get started upgrading your bathroom to a spa, try these tips:
New soft towels in matching colors
A bath rack for holding all the good stuff while youŕe having a bath
Fluffy bath rug and/or slippers
Extra lighting to create the athmosphere
Fresh flowers
Organic candles
6. SET YOUR IMAGINATION FREE
Think way outside the box. If you wish to spice up your home, bathroom is the place to start trying bold colours and patterns you would not dare to use in any other room. Forget about the pictures in the magazines and think what You would like to have in your own bathroom. Think personal, think fun- because remodeling should be fun. The only rule to follow- may that room be as eclectic and colourful as you wish, the selected details still have to match with each other and the entire atmosphere you are about to create:)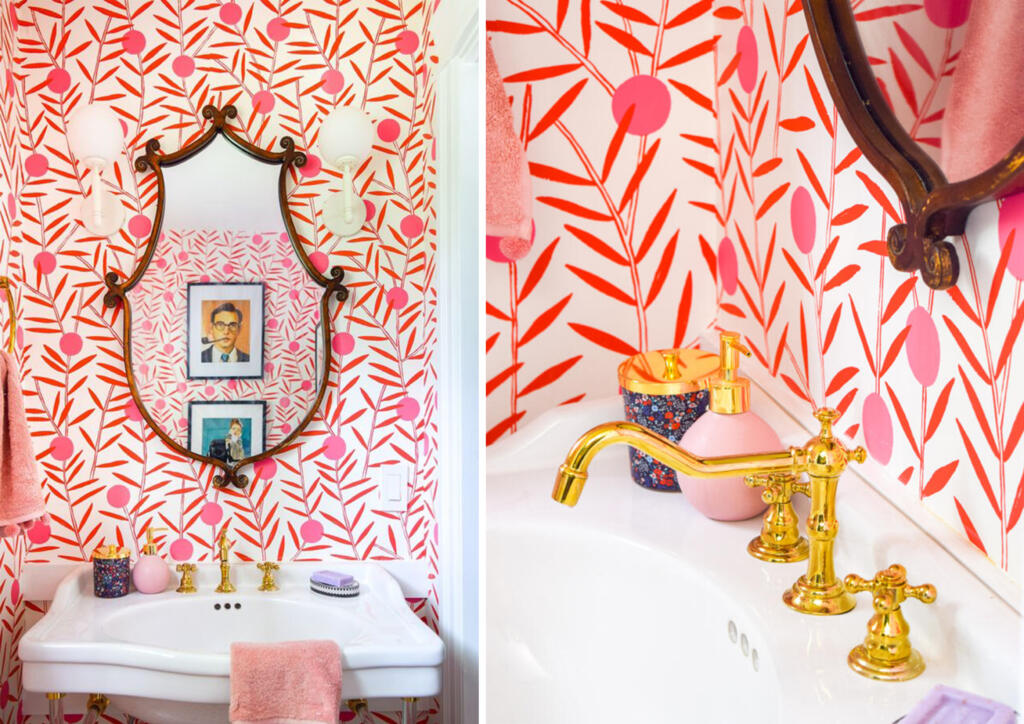 Bold and adorably cheerful. Source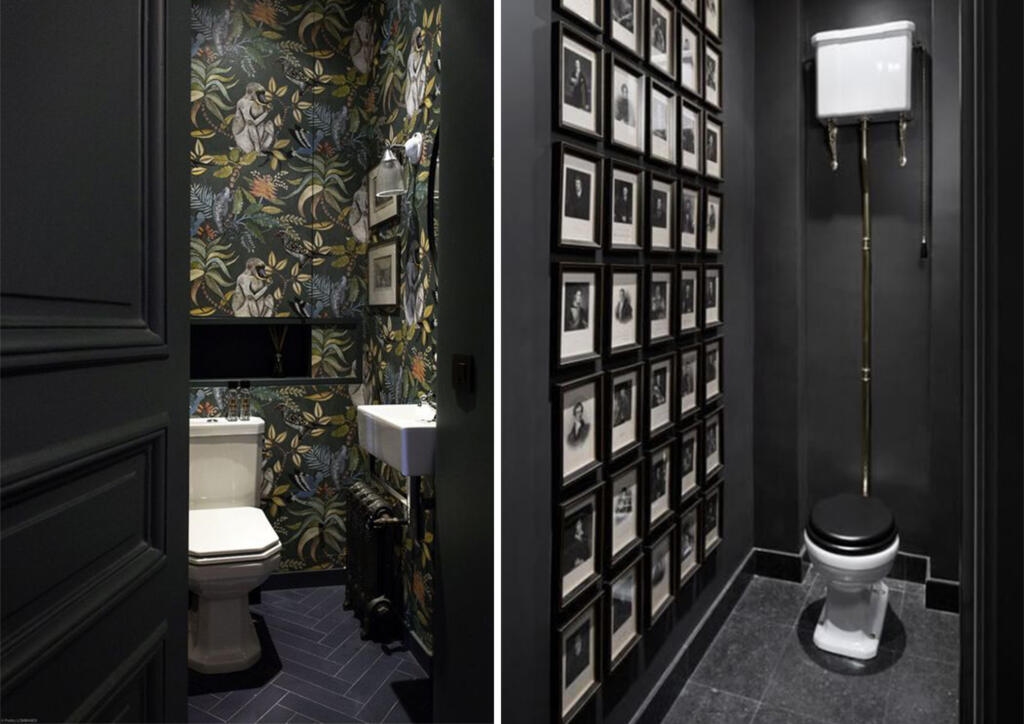 Dark is always elegant, but it takes carefully selected details to style your dark bathroom to perfection. Source                                                                                                                      Source