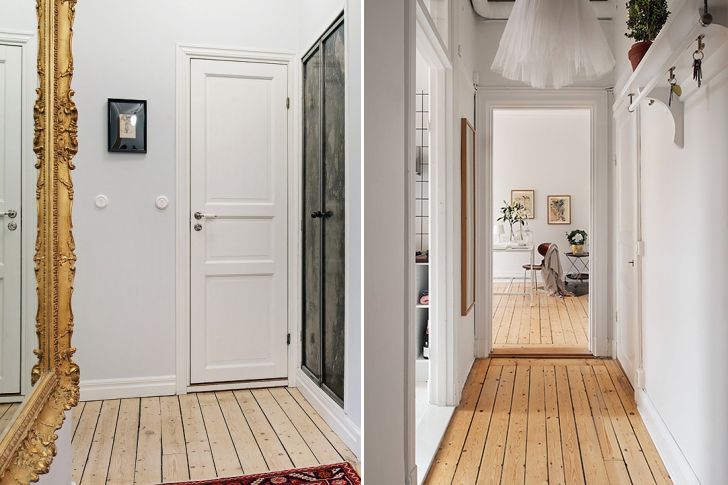 Where to start when planning on renovating your flat? How to make it look more like a proper home?  We have given it a good thought and will share with you 5 ways to make your apartment a lot cozier. Some of them are small and easily done, some of them require more time and effort.  
1. WOODEN FLOORS
When seeking for coziness, it is time to replace that laminate flooring. True, laminate is cheap and easy to install but unfortunately, it also feels like plastic under feet and seriously harms the quality of air.  The most natural and healthy solution would be oiled wooden flooring. Real timber has a beautiful warm hue and it really does give a new look to the whole place.  If you are going to renovate your apartment, we recommend taking a look at what is underneath the floor coverings. If you're in luck, you might find proper hardwood floors that have been covered a long time ago.  In a centrally heated apartment, these floors are most likely in good condition and therefore easily restored.

Restored hardwood floors in a blockhouse apartment. Tallinn, Estonia.  Source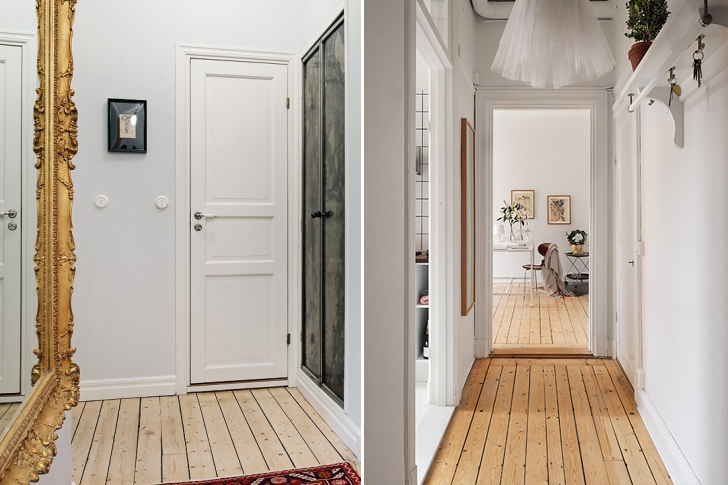 Restored floors in Goteborg, Sweden.  Source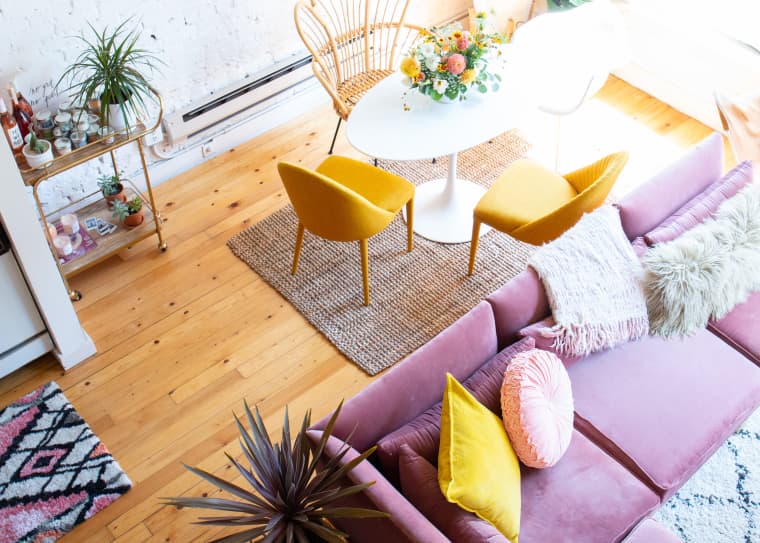 Wooden floors, white walls, and cheerful details make a perfect match. Source  
2. EXPOSED BRICK WALLS
The popularity of industrial style has brought red brick back in the picture. In fact, old cleaned brick walls are a classic that will never go out of fashion. They add warmth and character to any room. For some lucky homeowners, red brick can be found beneath layers of paint and plaster. Getting the renovation done by simply covering the walls with plasterboard is easy and relatively inexpensive, but before you start renovating, look for the treasures that may lie deep in the walls already.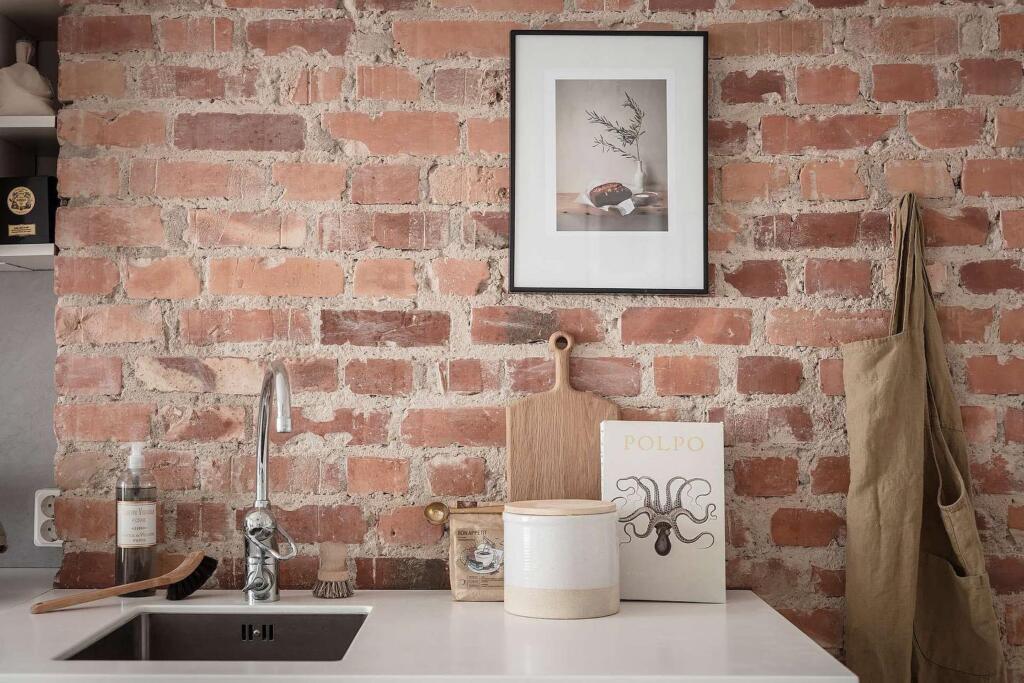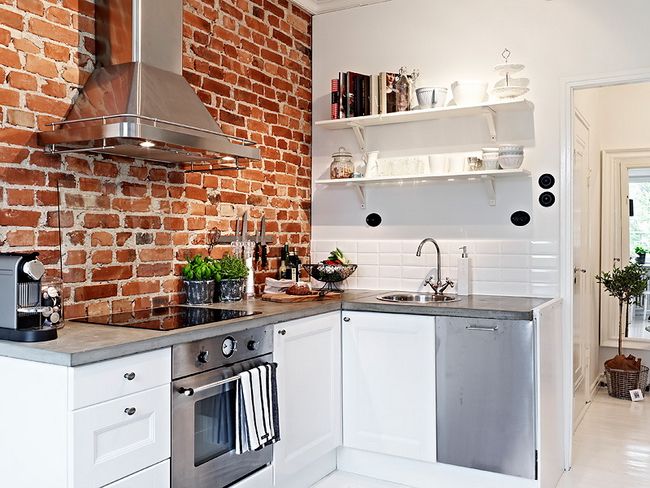 Source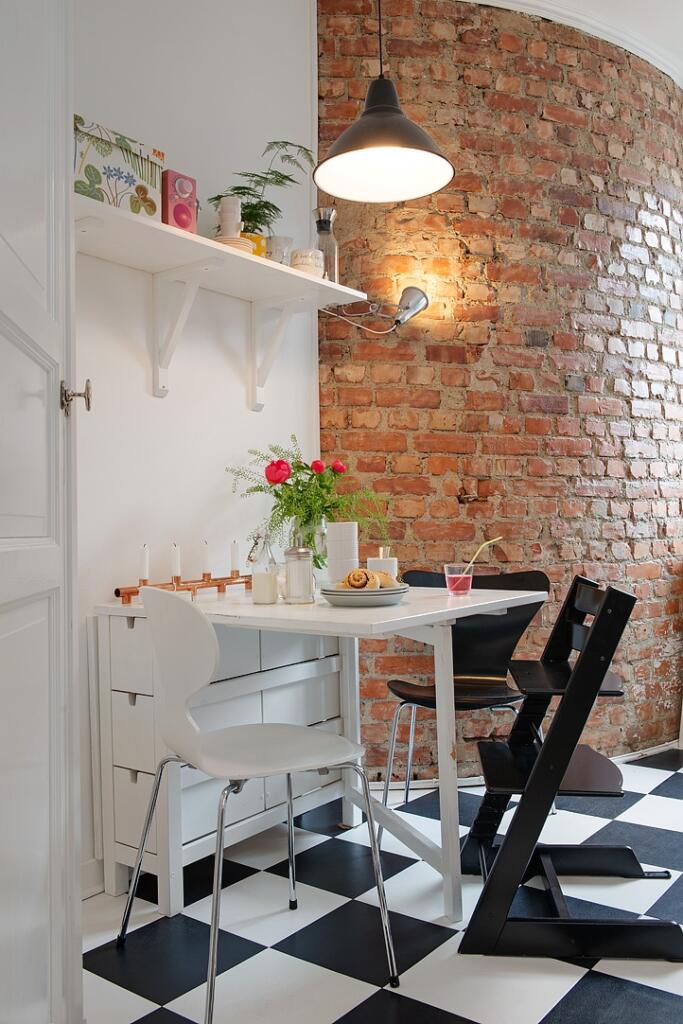 In case you are not lucky enough to find a forgotten brick wall in your apartment, we suggest heading to hardware stores. They stock an incredible amount of different decorative stones that look almost as good as the real bricks.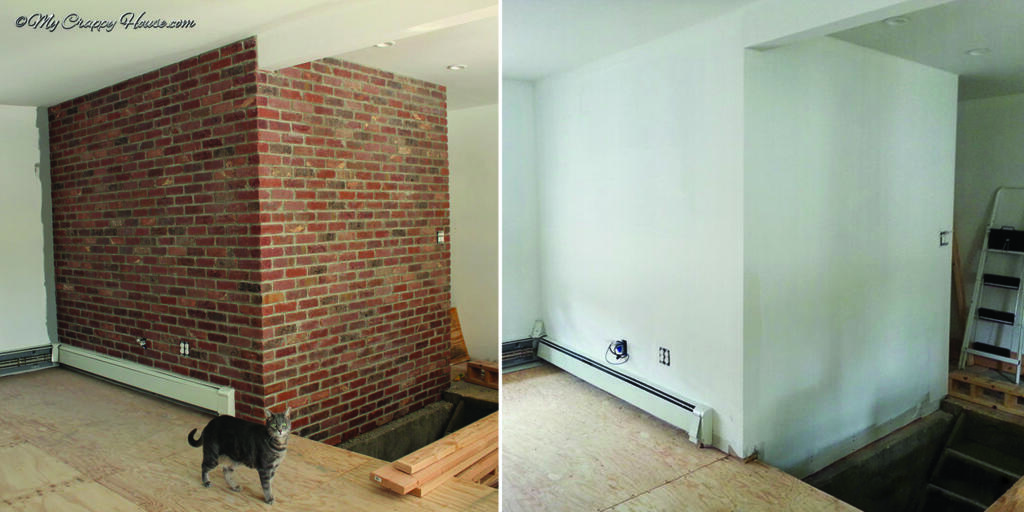 After and before adding decorative stones. Source  
3. FURNITURE WITH A BUILT-IN LOOK
Built-in wardrobes are the perfect way to add a ton of storage while not overwhelming the room. They come especially handy in small spaces. And, with a little help from Ikea, you can have the perfect wardrobe for a reasonable amount of money. Just mix and match your perfect wardrobe system and paint it the same color as the walls. To give the unit a more built-in look, just add crown molding to the top and baseboards to the bottom. And, to personalize it more, you can replace the doorknobs to match your chosen colors.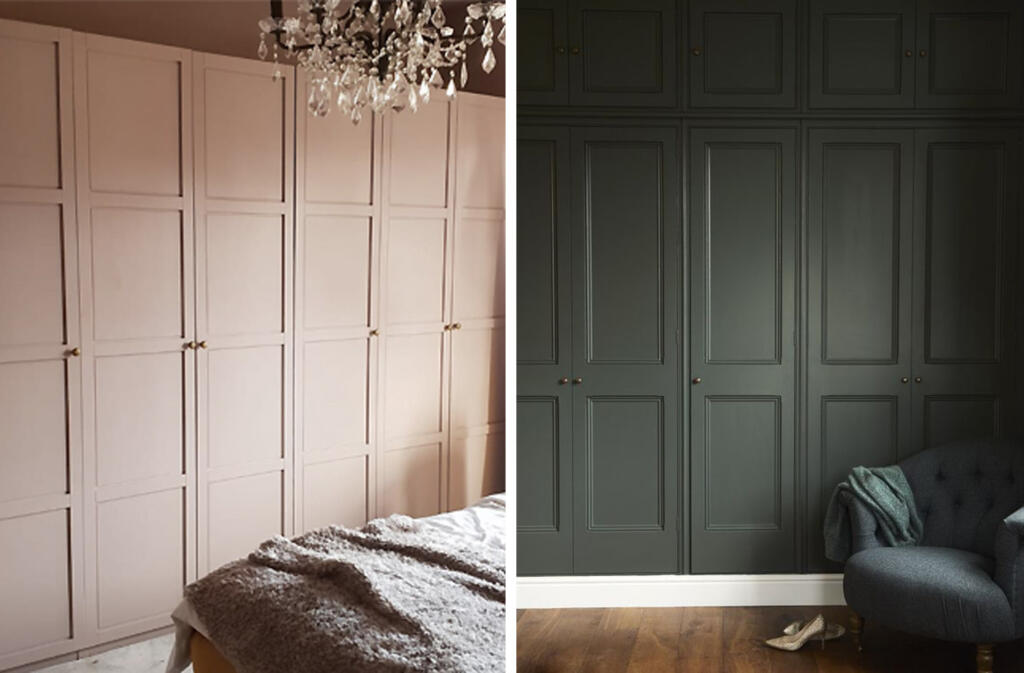 Who would have thought Ikea wardrobes can look that expensive! Source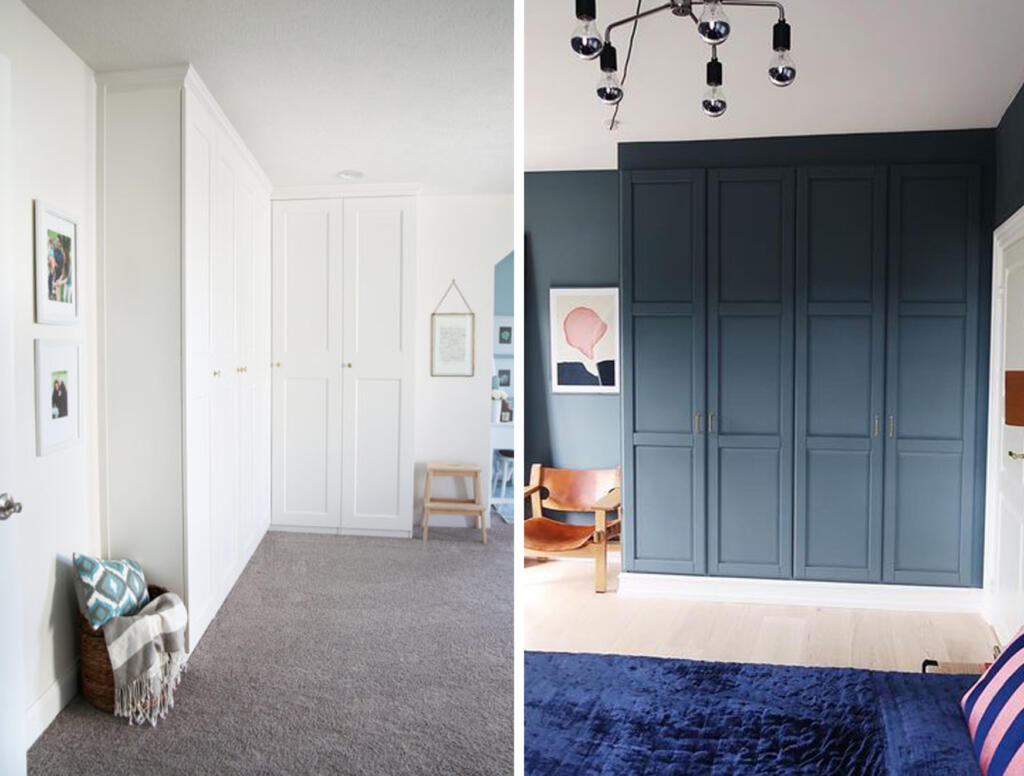 To give the unit a more built-in look, just add crown molding to the top and baseboards to the bottom. Source.
Talking about smaller storages like shelves or chests of drawers, keeping it low is a good idea. Low furniture leaves an impression of a larger space, and when planning wisely, still creates enough space for all your stuff. Just keep it neutral to make it look like it belongs on your walls. As a result, you will have a beautiful display of books and other decorative items.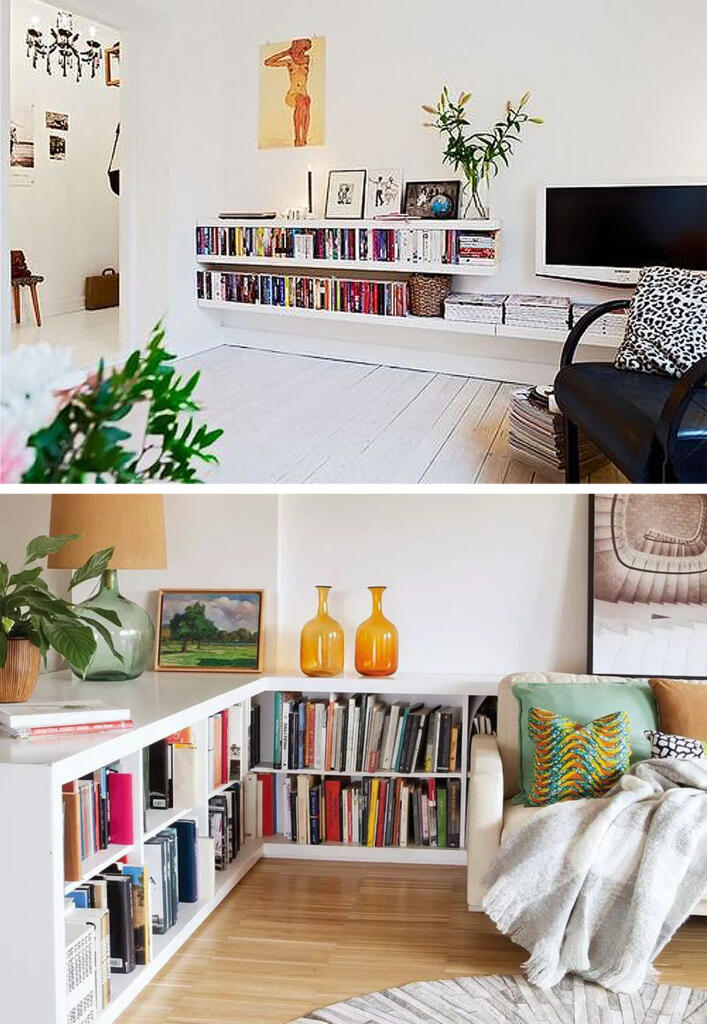 These minimal bookshelves bring all the attention to the books that really do cozy up any room. Source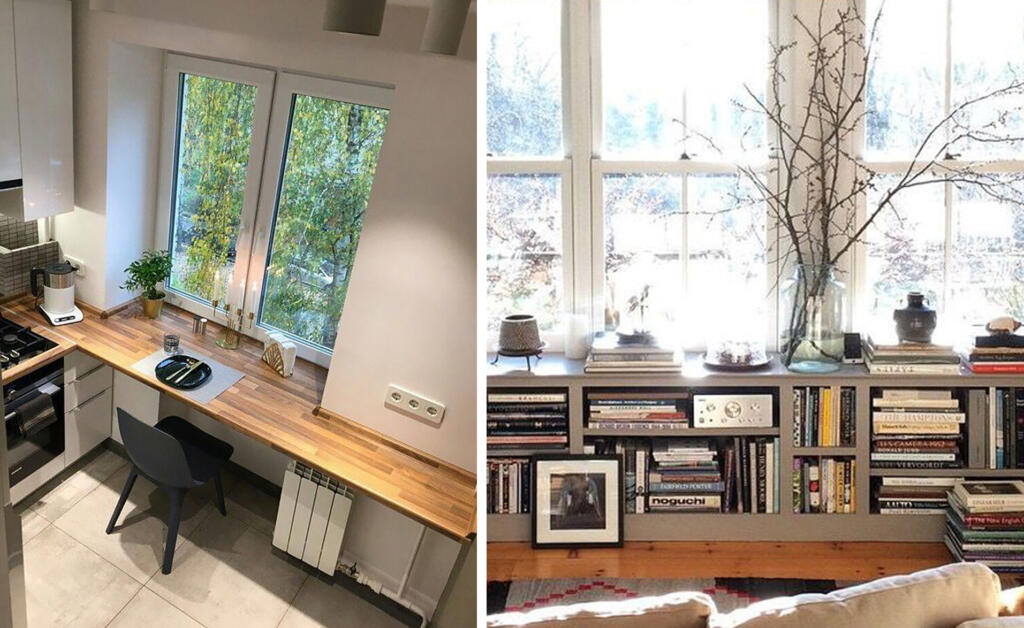 Source  
4. GALLERY WALLS
We all have memories that bring a smile to our faces. Why not frame those memories more and put them on a display? Gallery walls are a great way to make your apartment a lot cozier. You can decorate with photos, drawings, posters or maps… There really is no limit, as long as these items have a meaning for you.  With just a little organizing, you can turn your empty wall into something really special. Gallery walls are real mood lifters!
Old black and white photographs are just beautiful. Plus, they come from a time when photos meant so much more. Source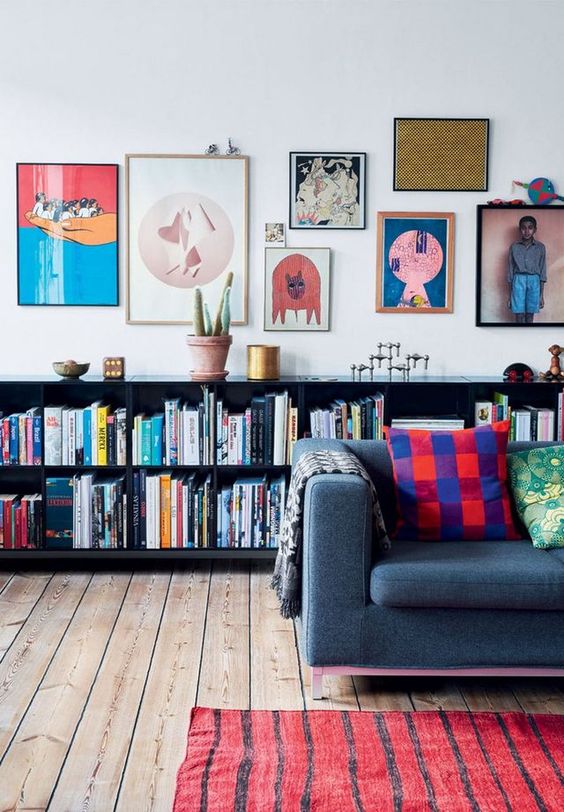 A bohemian gallery wall for the artistic souls. Source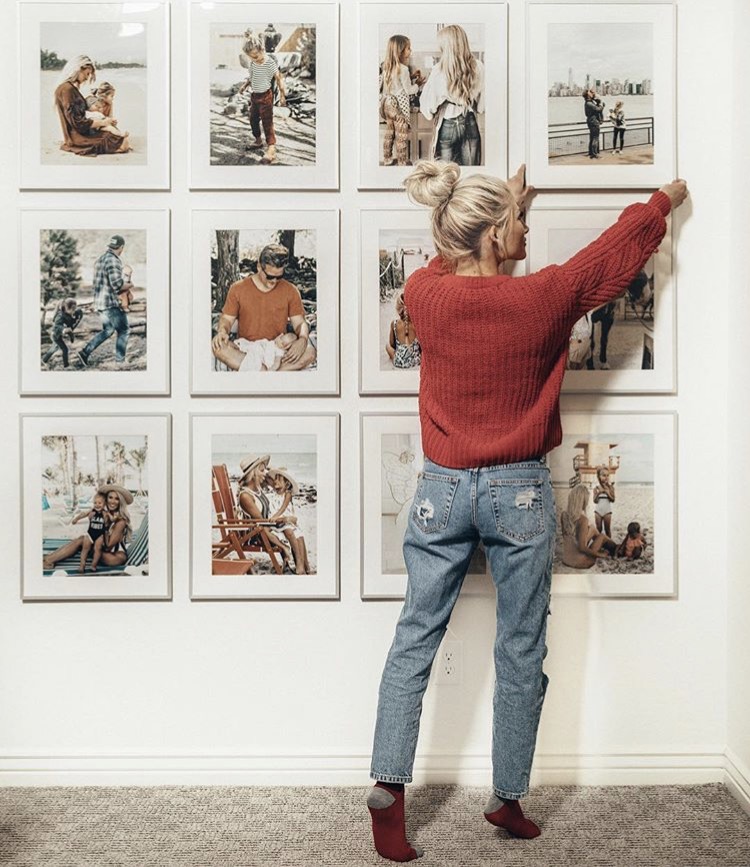 Symmetrically arranged gallery wall for those who love order.  Source  
5. FIREPLACE
If you dream of enjoying the warmth of a real fireplace but the house only has central heating, you don't need to give up your dream. Here is where bio fireplaces come handy. Biofuel is environment-friendly bioethanol- renewable energy source produced from fermented sugar or starch. Bioethanol burns completely, releasing heat, a little water vapor, and carbon dioxide. As the fuel does not soot or produce smoke, toxins or any other unwanted residues. The only thing to keep in mind is that since the bio fireplace absorbs oxygen from the air, the room must have good ventilation.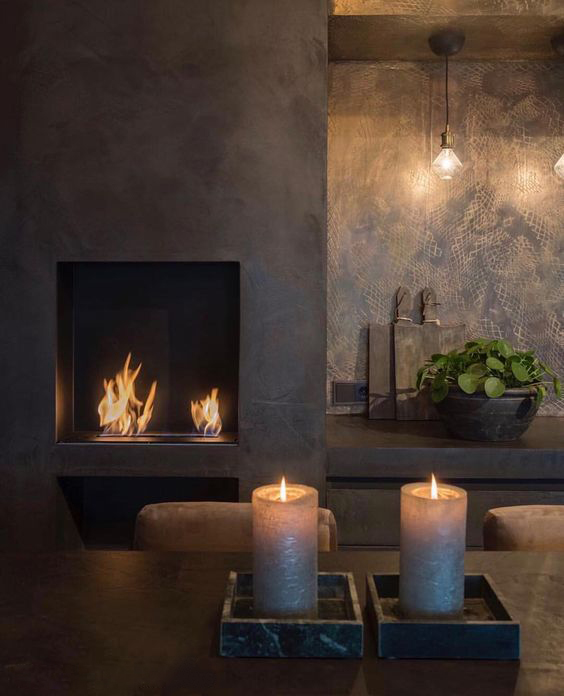 Built-in bio fireplace in a modern kitchen. Source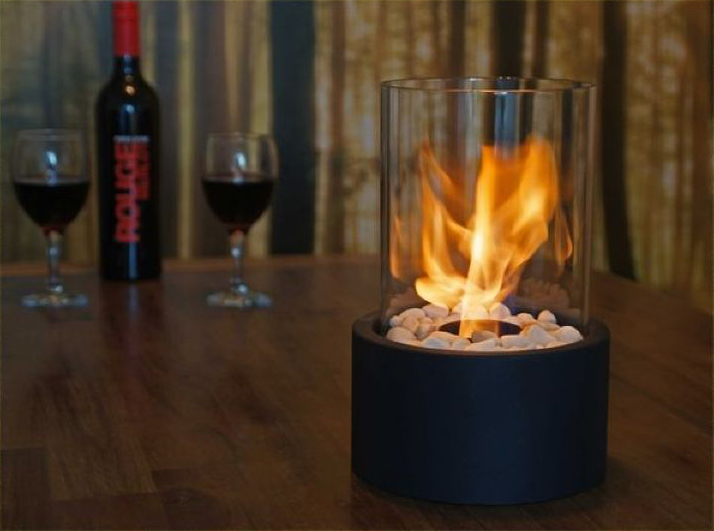 Bio fireplaces come in all sizes. You can buy a miniature fireplace for just 20 euros.  Source      
If you want to find more tips for decorating, we suggest reading this blog post: Budget Friendly Decor