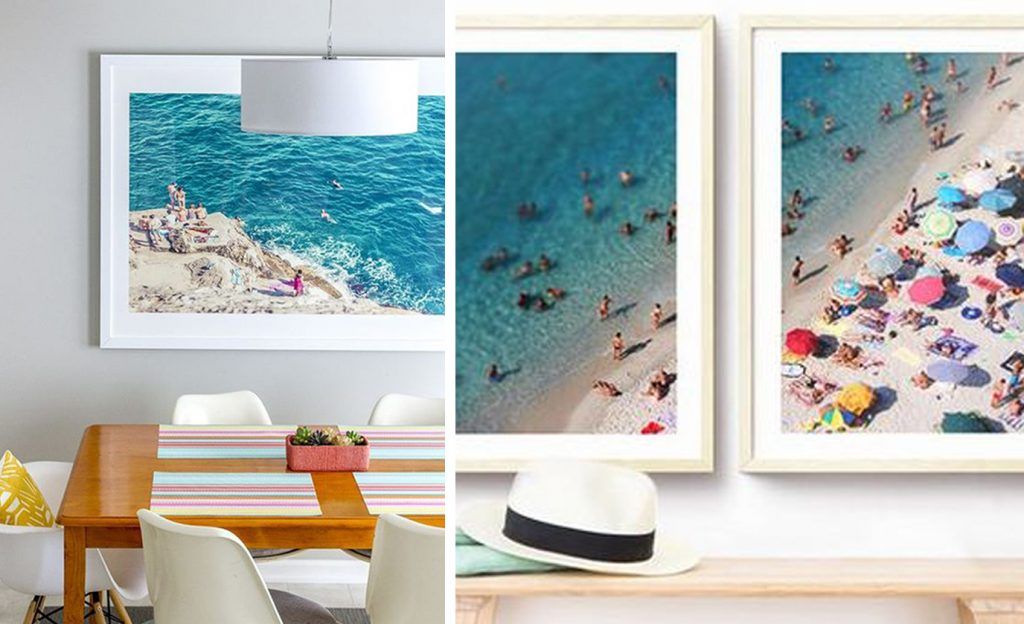 Summer feels like a fairy tale. Warm sunshine fills our hearts with boundless joy. There is no single thing to worry about in this colorful world! And then comes November with cold winds and endless rain. In this kind of weather, we often wonder why Nordic people love gray tones in interiors so much. Isn't the sky gray enough? Today's post is dedicated to colors and Mediterranean style home design- to make summer last forever!
ENLARGE AND FRAME YOUR TRAVEL PHOTOS
Thinking of Mediterranean, the first thing to pop into our heads is dazzling turquoise waters, happy people and tons of sunshine. Why hide good memories of the past trips in a photo album if it's so easy to hang them on a wall? Just add a minimalist frame to get a lovely graphic finish.  Decorating with travel photos is really a great idea, not to forget the freedom we seek when traveling.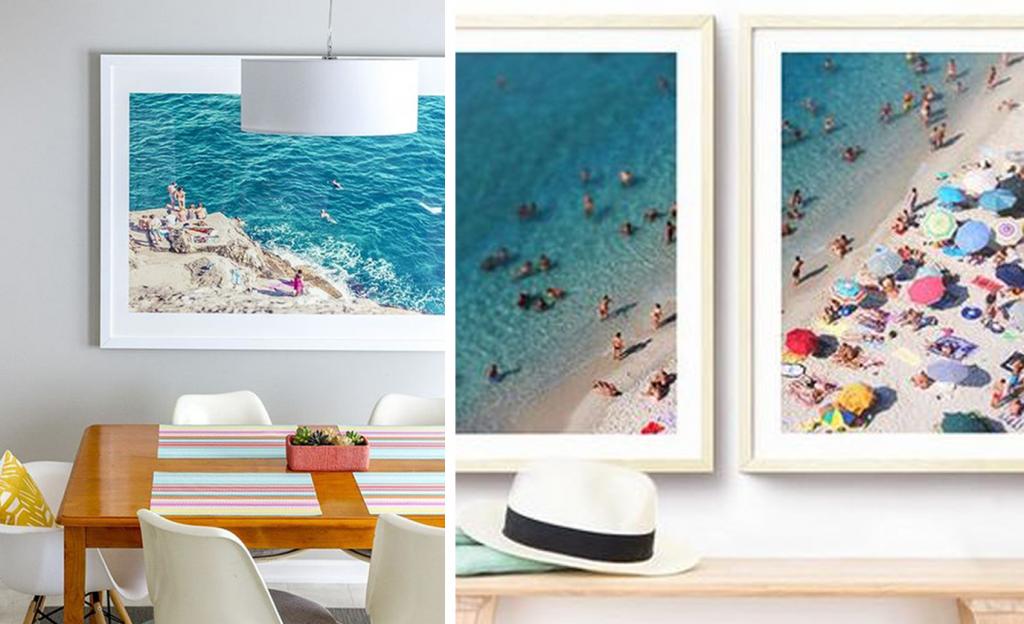 Source                                                                                Source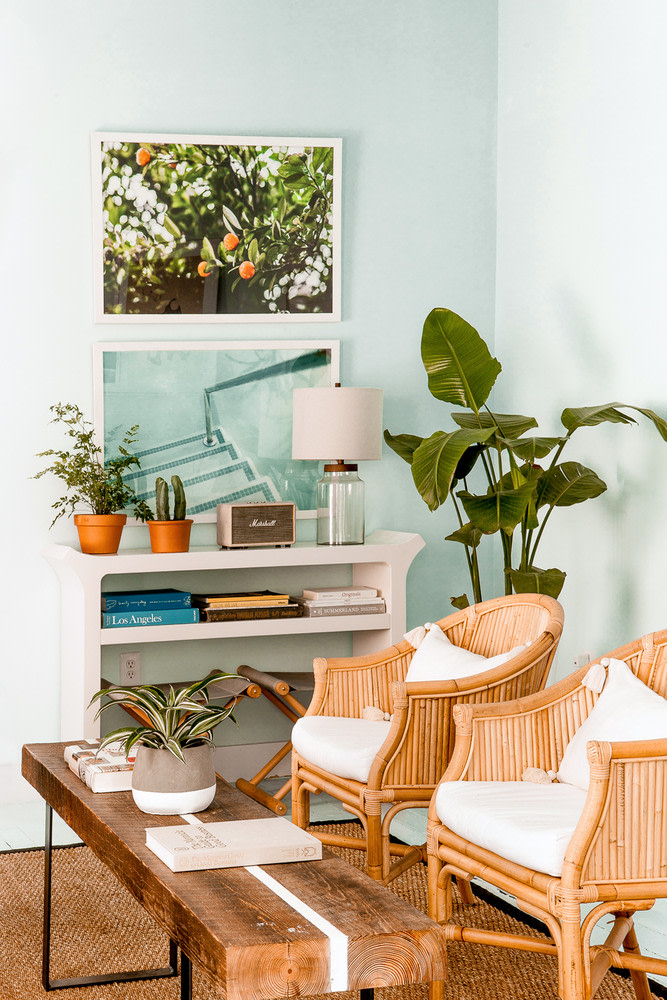 Source
USE MEDITERRANEAN STYLE CERAMIC TILES
Ceramic tiles are just charming when covering floors,  pavements, city walls and so much more in Mediterranean area.  Even tables and bar counters are often decorated! Let's get inspired by the richness of color! It is so easy as the selection is endless. The only possible limit is one's imagination.
Source                                                                                        Source
Source                                                                                   Source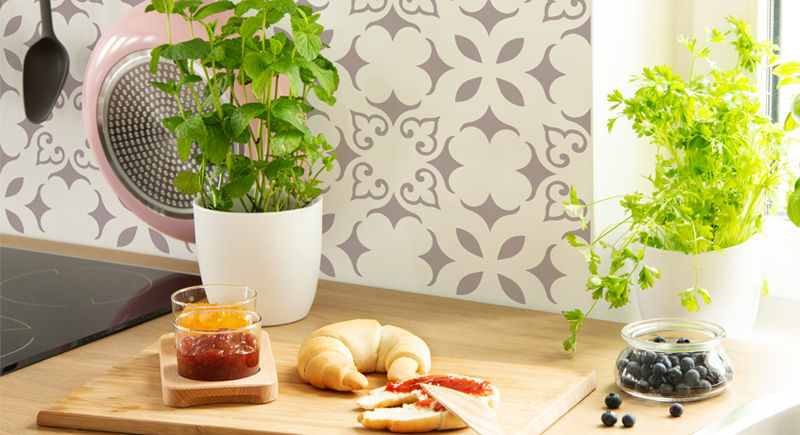 If ripping off excisting tiles is too much trouble, avoid the hassle and just paint them over. Whatever design, whatever color you like. Stencil used on photo: "Mediterranean tile" by StenCilit.
LIMEWASH YOUR WALLS
Remember those beautiful weathered walls in Italian village cafes? You can paint a wall like these on your own! Using the whitewash technique, you can create a beautiful wall surface that is one of a kind. Whitewash painting is a creative process and the result depends on the number of paint layers, brush strokes and the amount of paint diluted. The technique takes more time to paint but the great advantage of whitewash is the all-natural ingredients. Plus, limewash provides attractive color variations, especially after weathering. For more information on whitewash colors and other natural colors and pigments, contact your local paint stores or bio shops.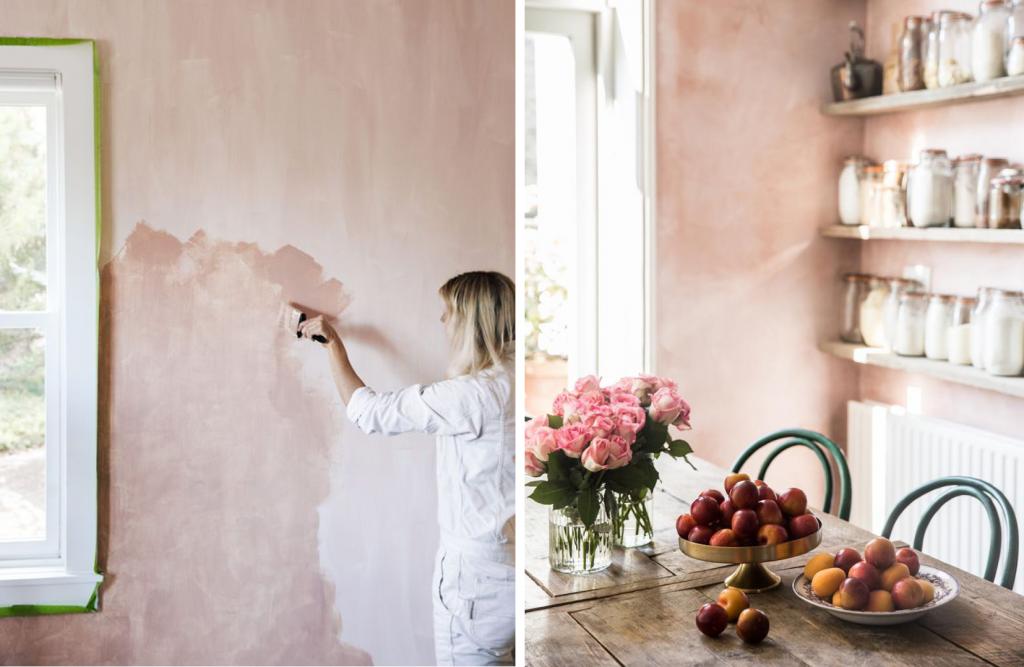 Source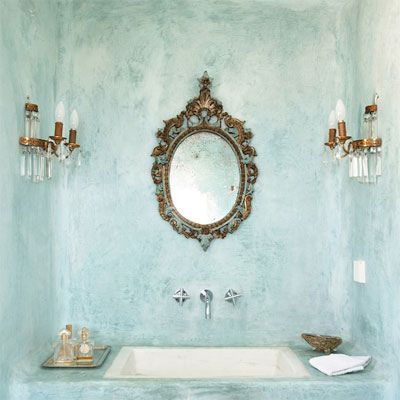 Source
TRY FRUIT PATTERNS
Juicy fruit patterns always create a good mood, especially when it's cold and gray outside. Big patterns are a good idea for bathrooms, hallways or other areas we don't spend long hours (as cute as the patterns are, it may be a better idea to keep living room rather tranquil). In case you do want to bring some color to your living room then it is a good idea to try cheerful curtains, pillow covers or rugs that can be easily replaced.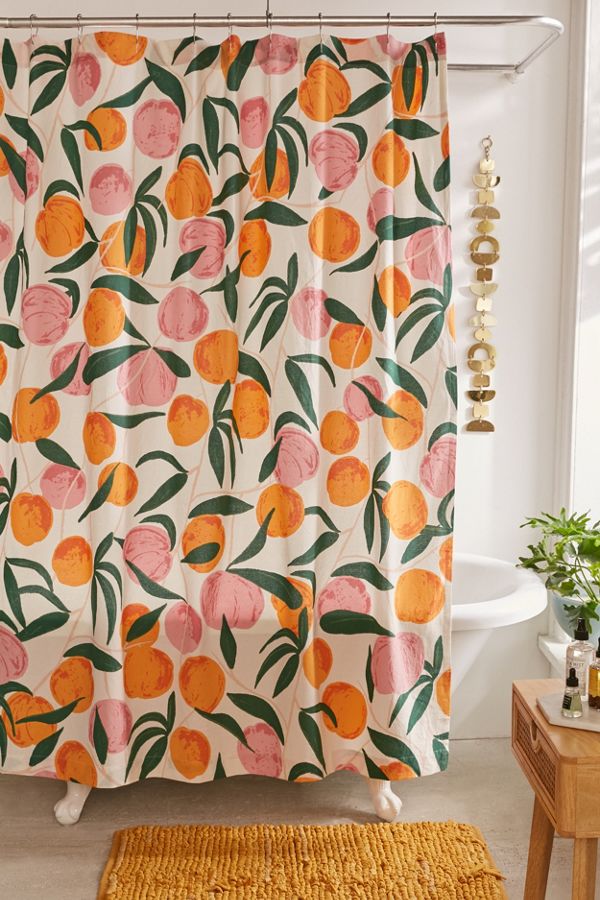 Sometimes a woven rug and a new shower curtain are enough to bring Mediterranean style into your bathroom. Source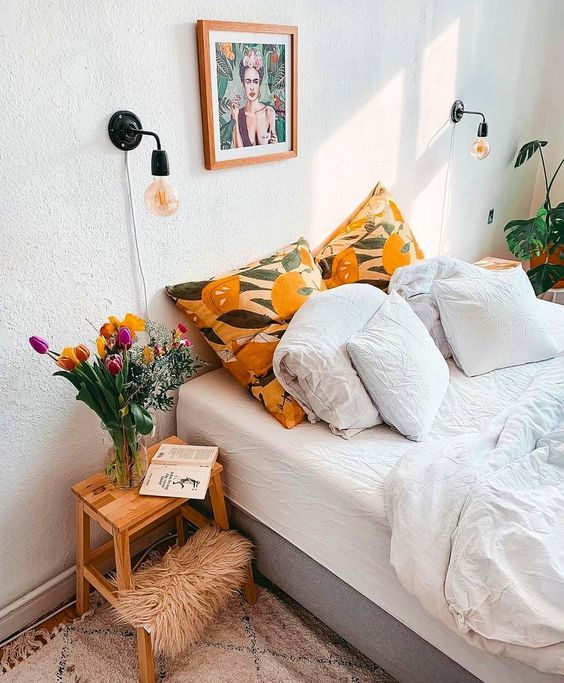 Source
GET SOME EXOTIC PLANTS
A single plant can do wonders (if it's big enough)! Lush houseplants purify the air and create a joyful atmosphere. A decent indoor palm really creates a feeling of someplace exotic. When choosing your perfect plant, it's important to keep in mind that different species have different needs for daylight and temperature. Exotic plants can be pretty slick! If you think you don't have have a green thumb, we recommend growing Monstera, cactus or Areca Palm. Areca Palm is also considered to be the best air purifier among houseplants!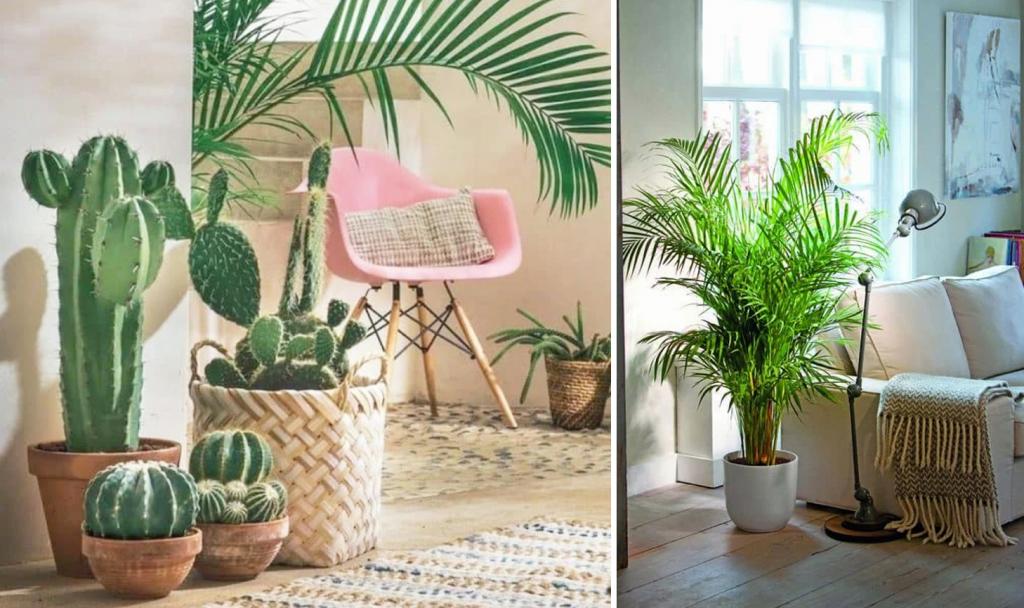 Source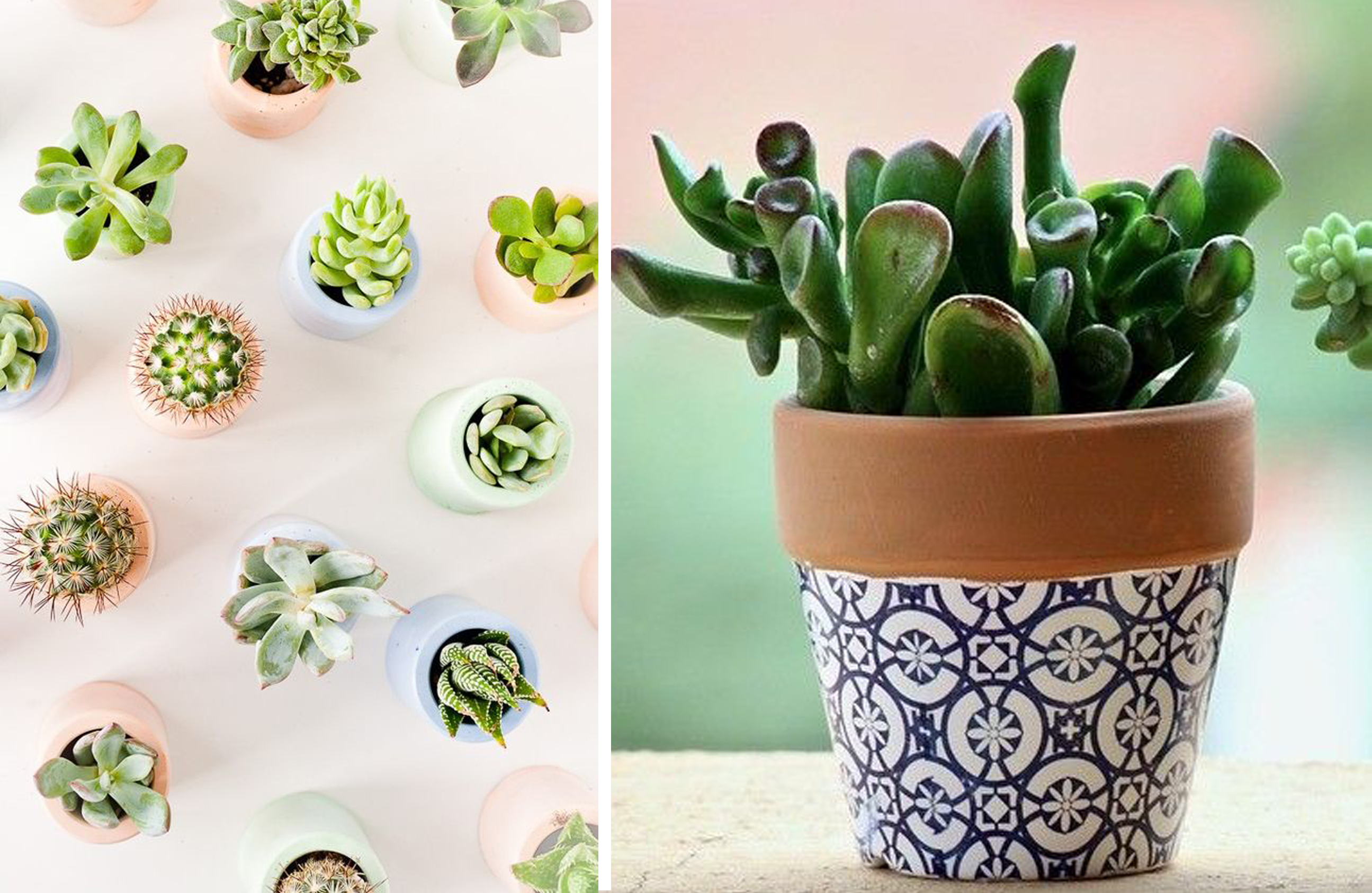 Source