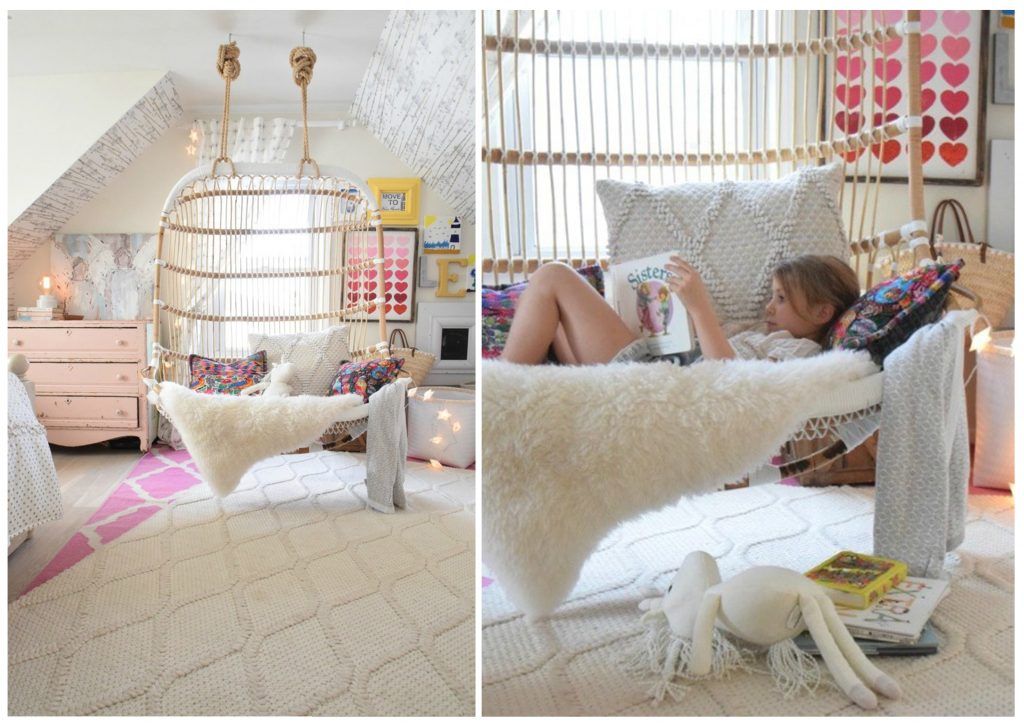 Today we will once again talk about kids rooms. This time, we only concentrate on girls from 7 to 12. Why so? After attending school, kids needs increase considerably when it comes to space and privacy. The room must provide a pleasant environment for learning and being alone. At the same time, it needs to look presentative (every parent knows how important that is, especially when friends come over). But how to create a stylish and personalized girls room? And how to get it done with a fun DIY weekend project?  We've selected some great ideas for you 🙂
GIRLS ROOM MUST LOOK COOL!
As mentioned, every girl's room must look presentable. At the age of 7-12, it already reflects the personality of the owner, not just the parent's decorating skills. It is important for the kids to express freely in their own room. After all, it is their own little world that should not have too many limits. So let's encourage their creativity by offering unusual decorating ideas and letting girls interact.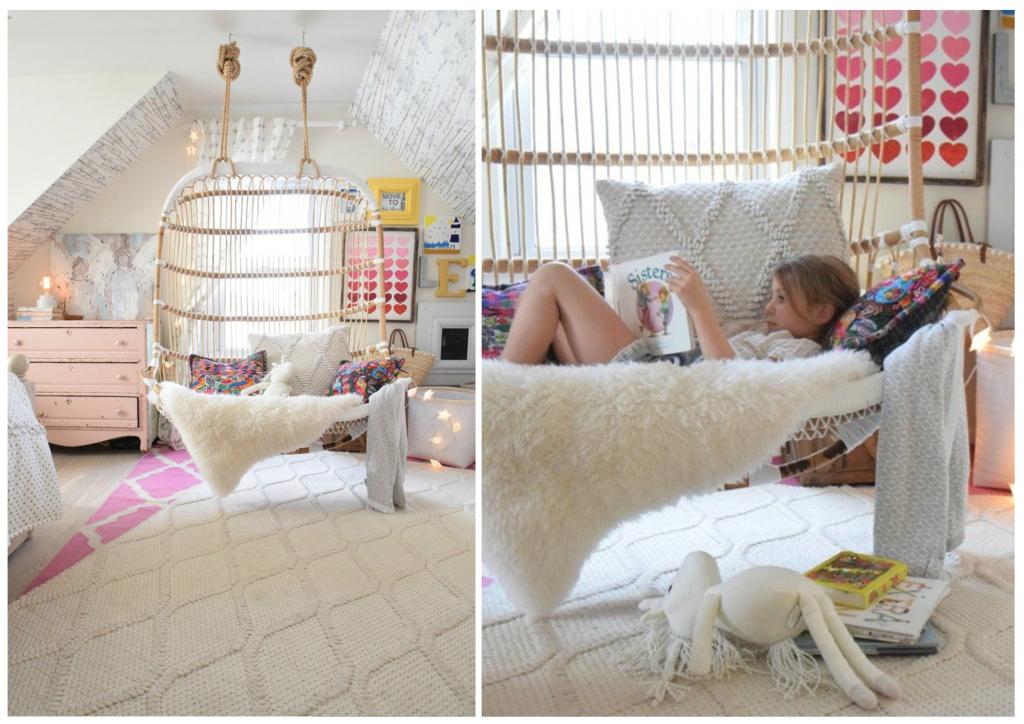 Swing in the middle of the room- why not! source Paint is the most effective and affordable element when it comes to decorating. It can do wonders! And the palette to choose from is endless. When choosing the right tones, parents should be suggesting but not making the final decision;) After all, it is just paint and if girls find bright yellow the best option then yellow it should be:)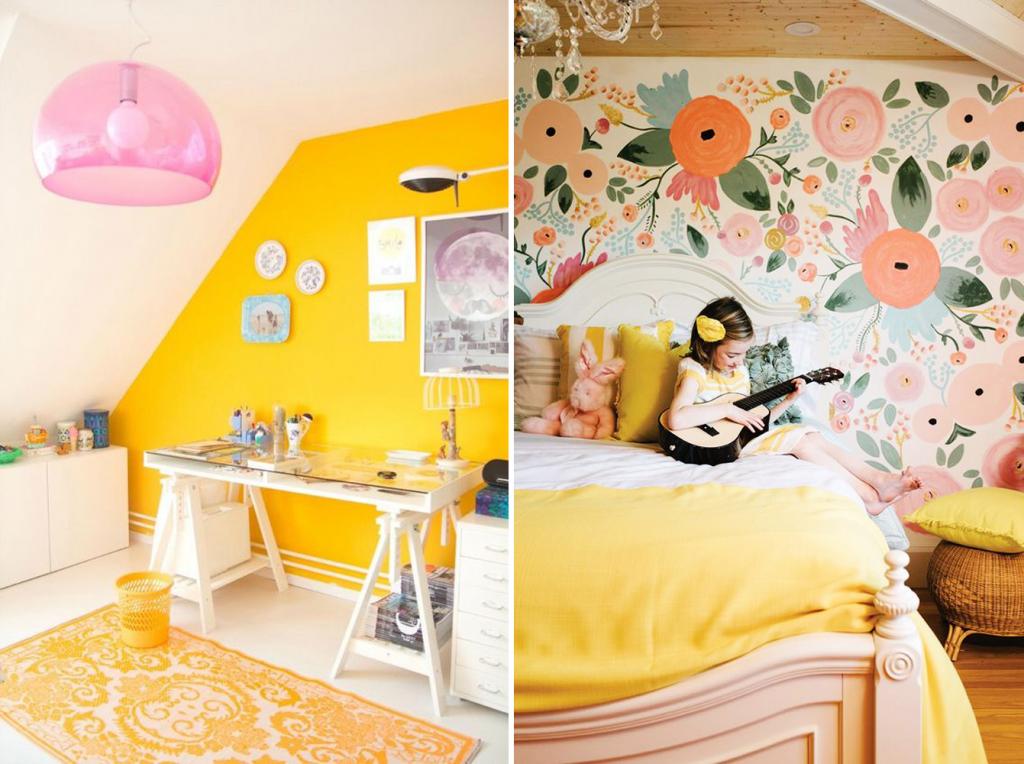 Colors are so much fun! There is plenty of time in our lives for that fashionable muted palette. Childhood should be colorful.  Source
MIRROR- THE MOST IMPORTANT ELEMENT
When decorating a room for girls, selecting a mirror is super important. Girls need a mirror, and the bigger the better. Mirrors work miracles by creating an illusion of a bigger space. Also, when placed in the corner it can make the room a lot cozier. Worth a try! Plus, there are plenty of places where you can get it cut in a shape and size you like and get it famed just the way you like it.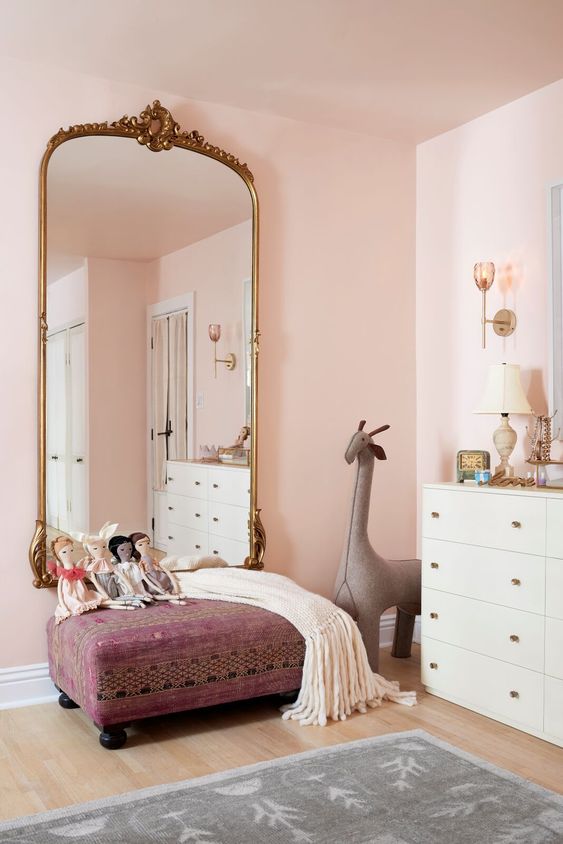 The perfect mirror. Source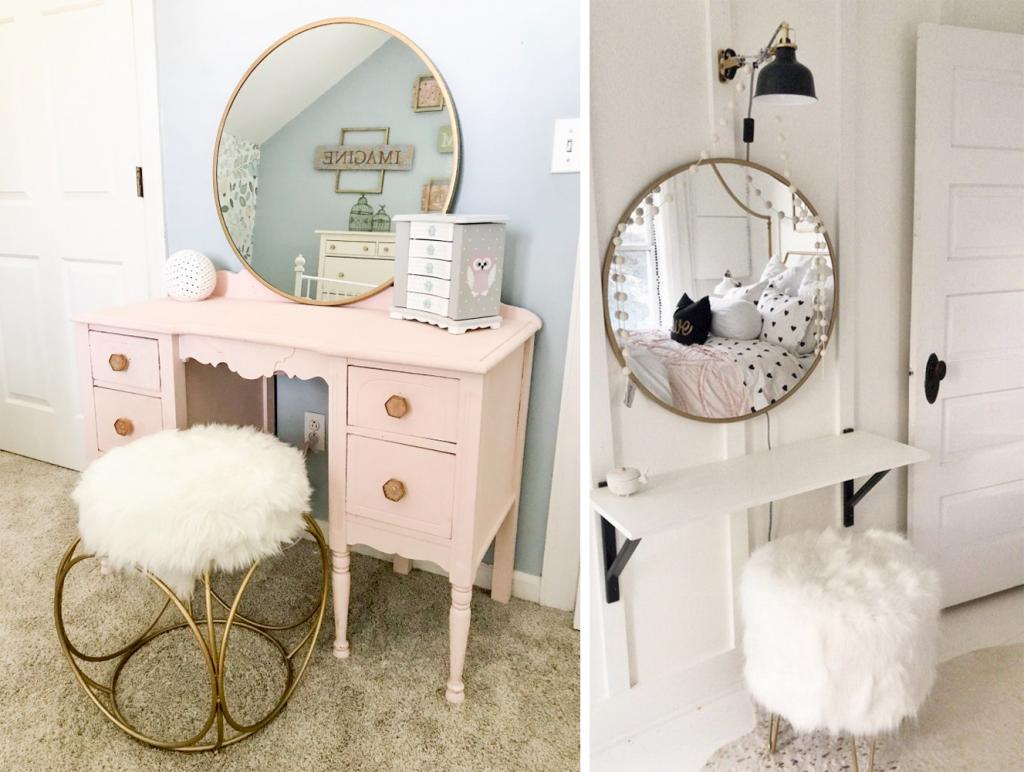 Vanity with drawers is so practical, hiding all those hair clips. Besides, it looks beautiful and makes the room so much more elegant (source).   If your room happens to be a smaller kind then an elegant DIY vanity can easily be created using a wall shelf. source
CREATIVE AND INSPIRING STUDY AREA
It is said that playing is the most important job a child could have. Seems though that once school starts, studying becomes way more important. That is why it's so important to create an environment that encourages to learn and helps to keep the focus on school work. Ideally, desk layout should provide a view out of the window or at least over the room (it gives the opportunity to relax eyes and watch the distance one in a while). However, due to lack of space we often have to place the desk against the wall. If so, decorating that boring wall helps a lot.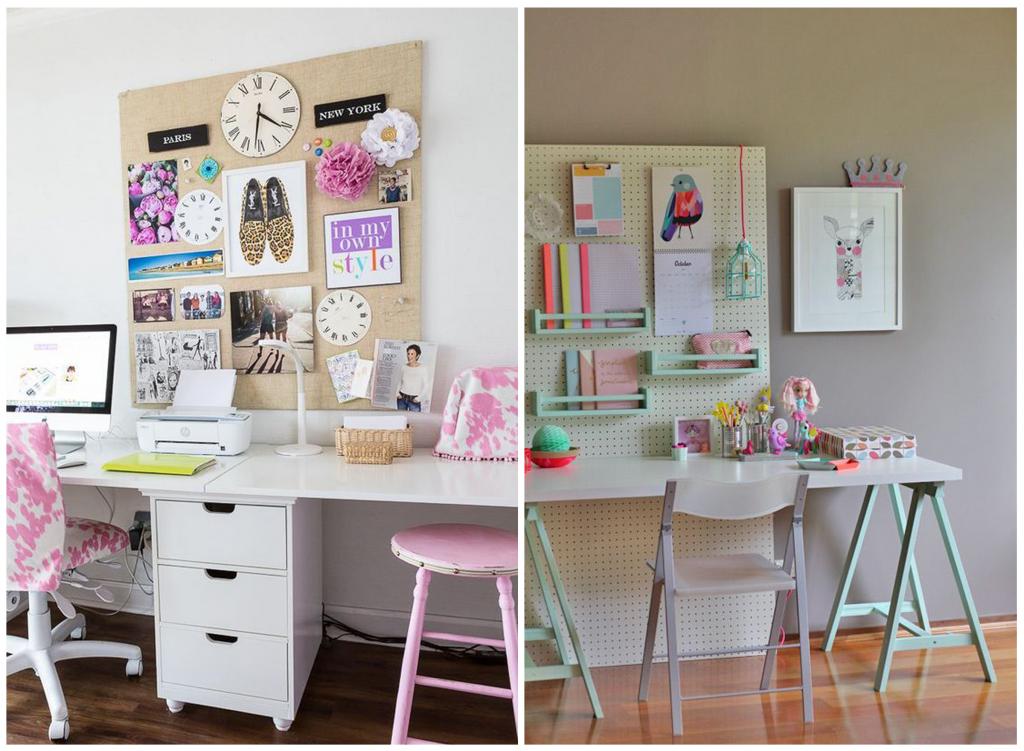 Every proper school girls room has a well equipped and comfy working area. Inspiring and fun pin boards or pegboards are a great way to add some personal touch to the whole room.  Source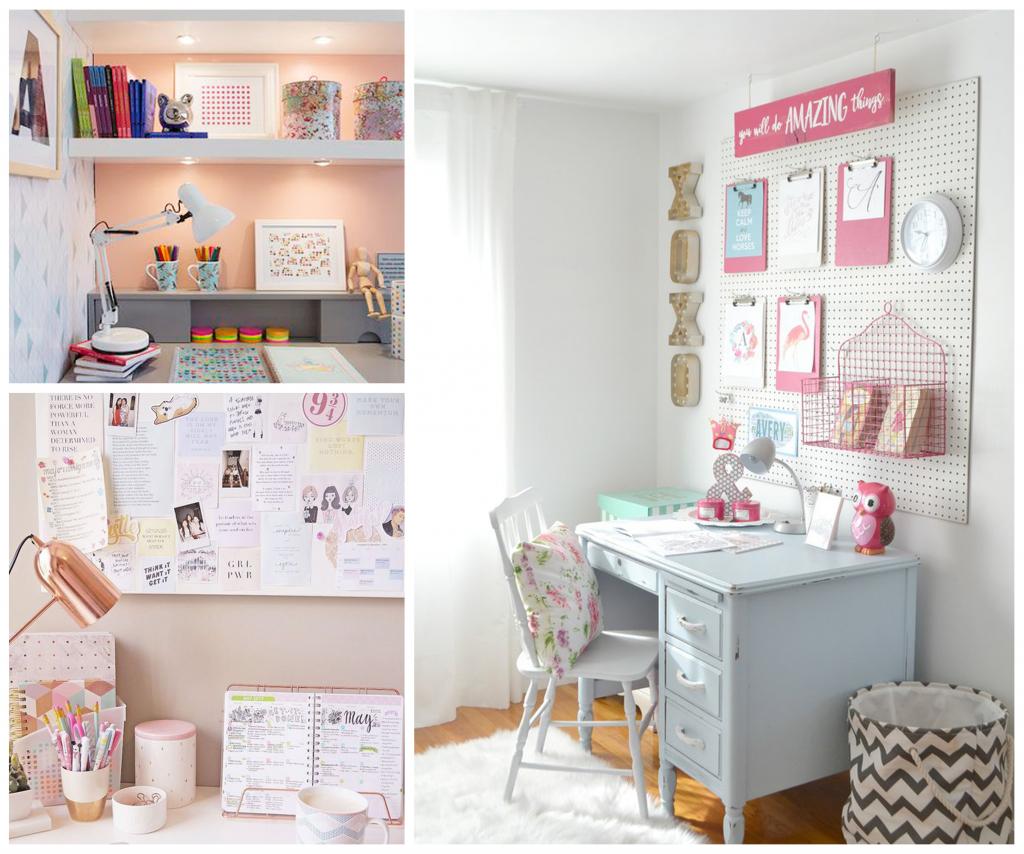 Source 
TULLE AND FAIRY LIGHTS
Romantic style is always IN. We have chosen the easiest way to give your girls´ room a gentle fairy kick:) It is so simple to create a dreamy, soft atmosphere by draping light colored tulle fabrics around the bed. Just attach it to the ceiling with simple hooks and string to drape over the bed.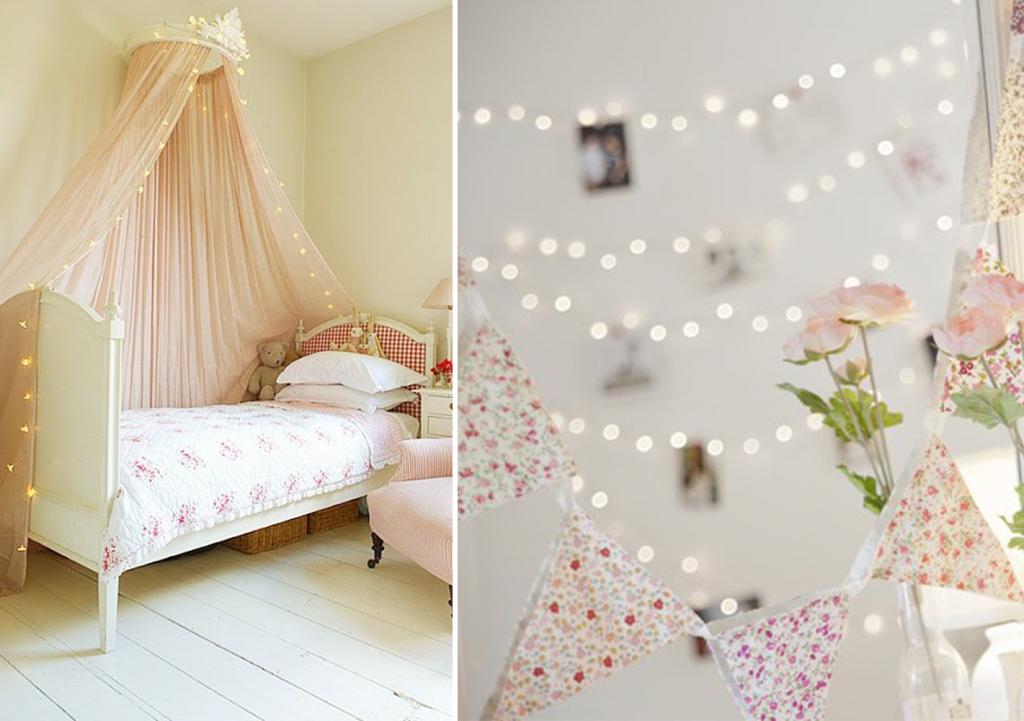 See how these beautiful decorations are made here.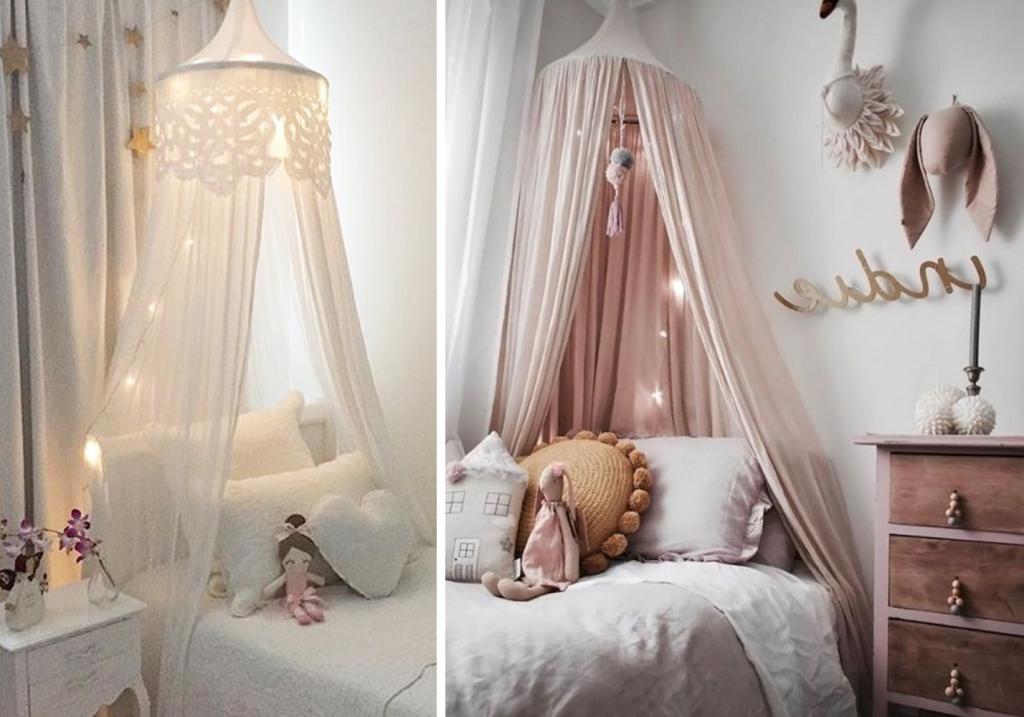 Source
NEON IS IN!
Neon lights are popular for a reason. They create a cozy atmosphere and offer endless decoration options. It is possible to buy ready-made lights as well as a LED cable to make your own lights. Neon lights are available in online shops, in endless color and price ranges. In the children's room, the neon lights also function as a night light.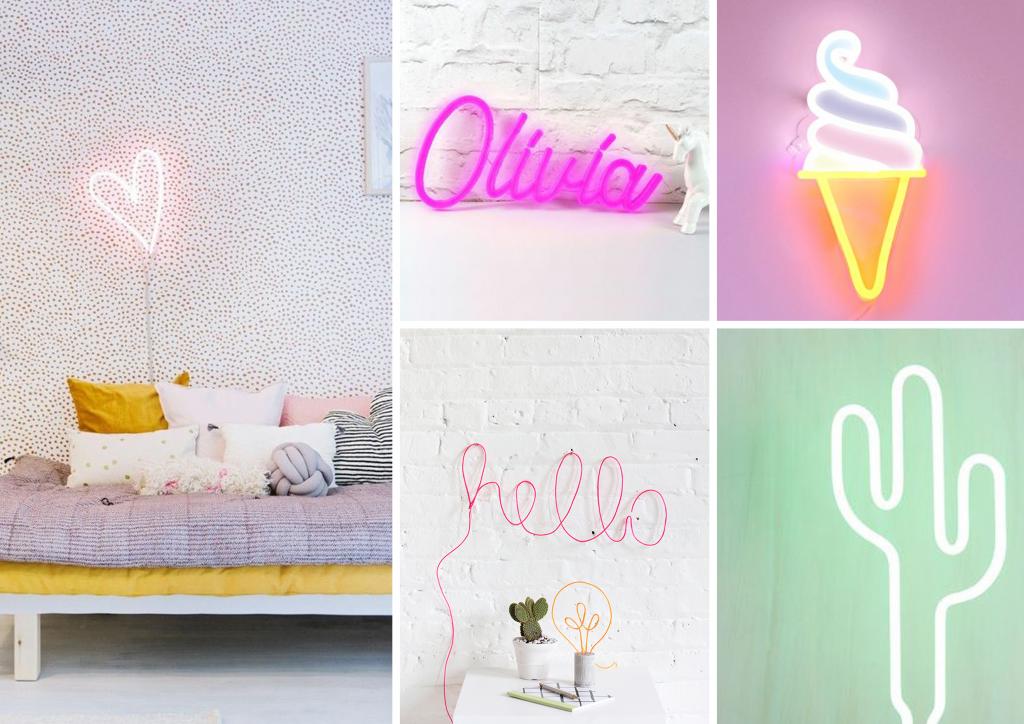 Source
SIMPLE CHARMING WALL PATTERNS
Scandinavian style has gained tremendous popularity in recent years, and for a reason. It enchants us with its purity and simplicity. Minimalist wall patterns are suitable for children's room as they don't define age- these simple patterns suit ladies of all ages 🙂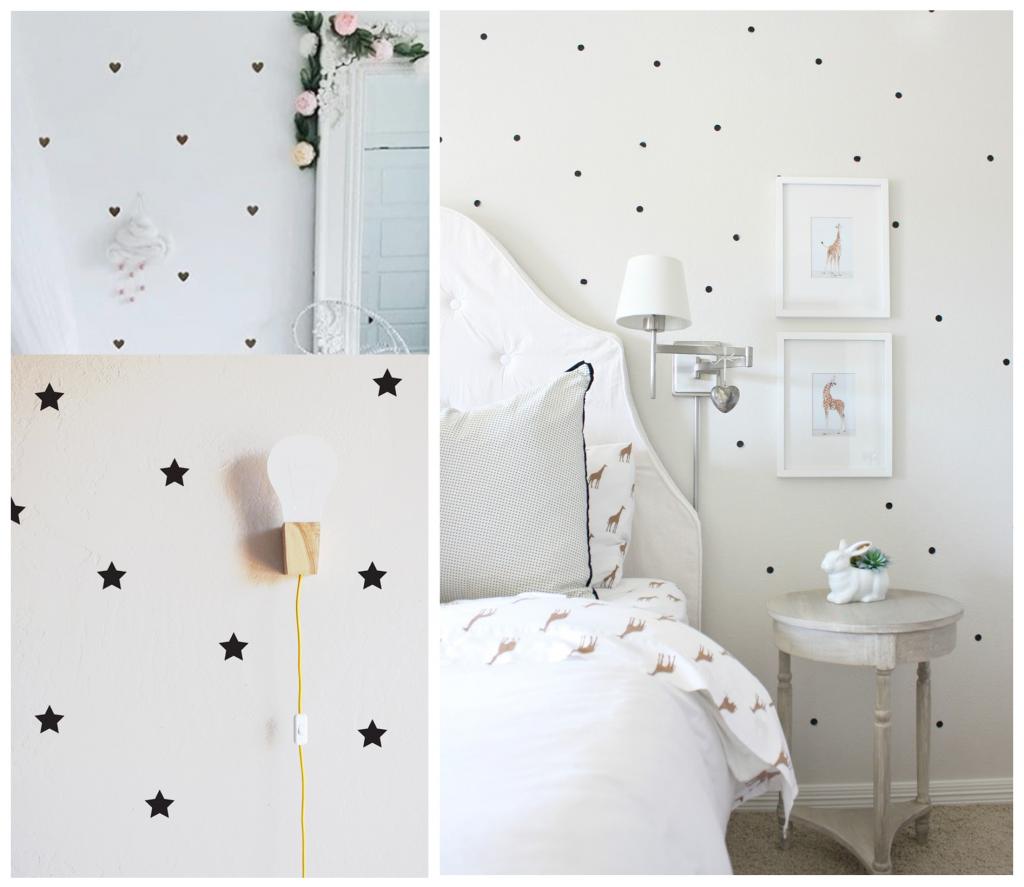 You can buy those cute stars and hearts here. Or see how these cute DIY polka dot decals are made.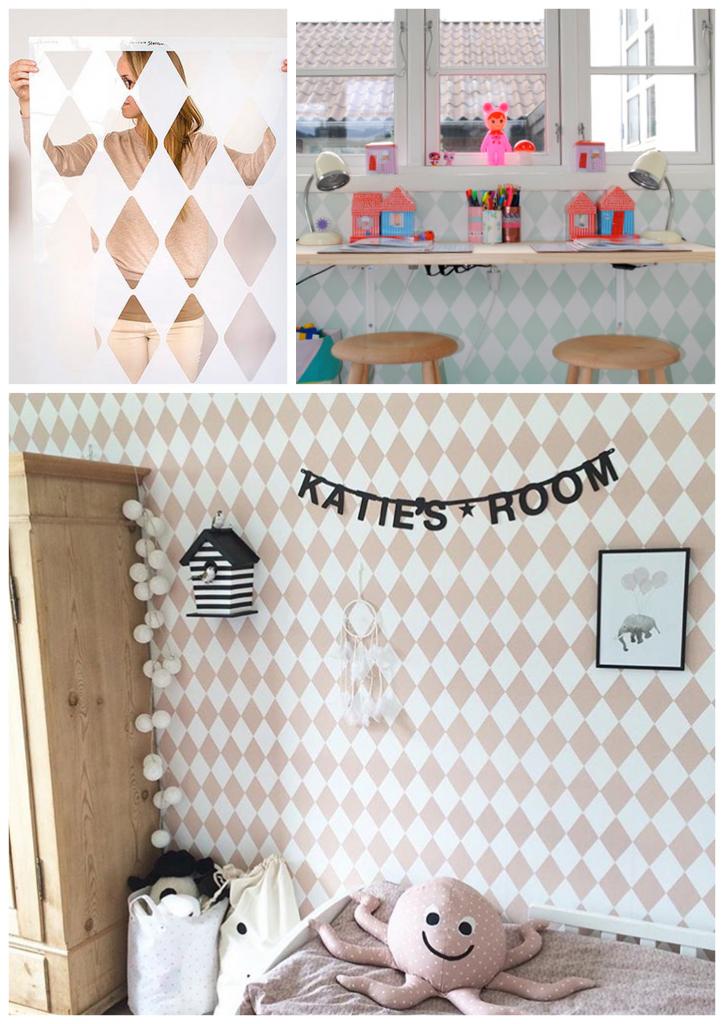 Harlequin wallpaper by Ferm Living (source). You can also create a patterned wall with our Harlequin stencil available here.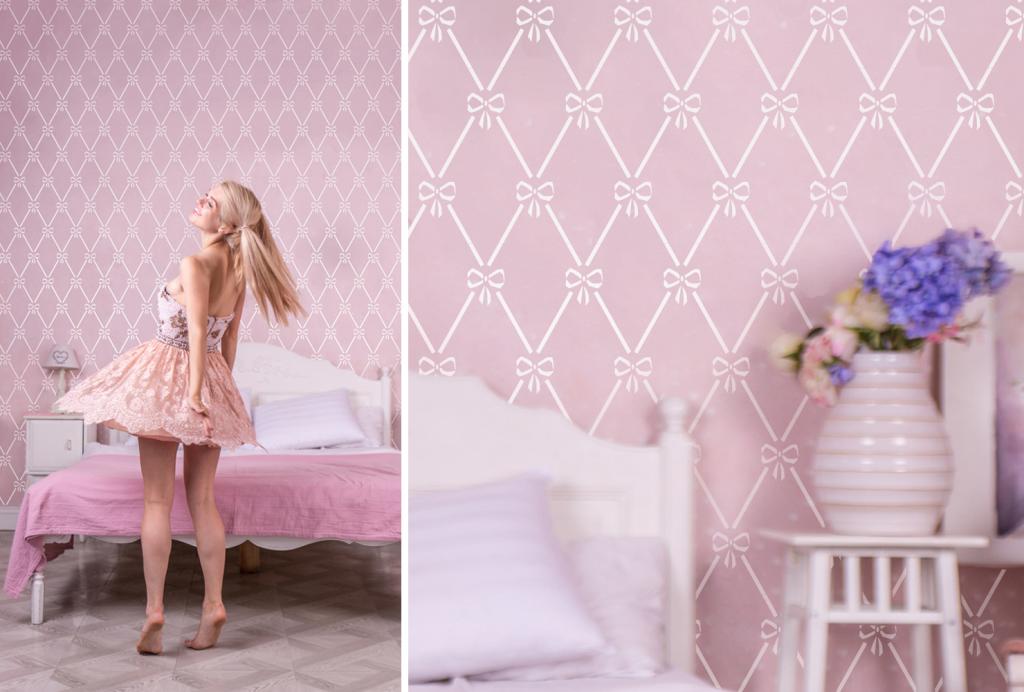 This bow tie pattern is made for girls room- soon available in our  Stencilit shop.